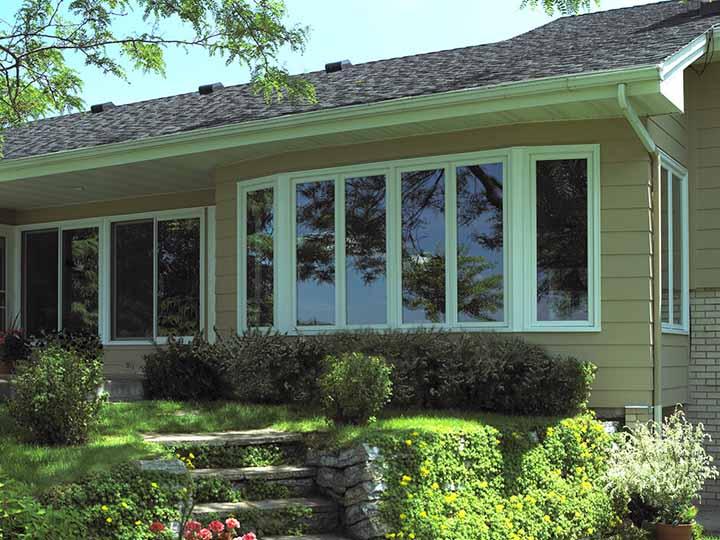 Use a combination of window styles to add visual interest to the exterior of any home.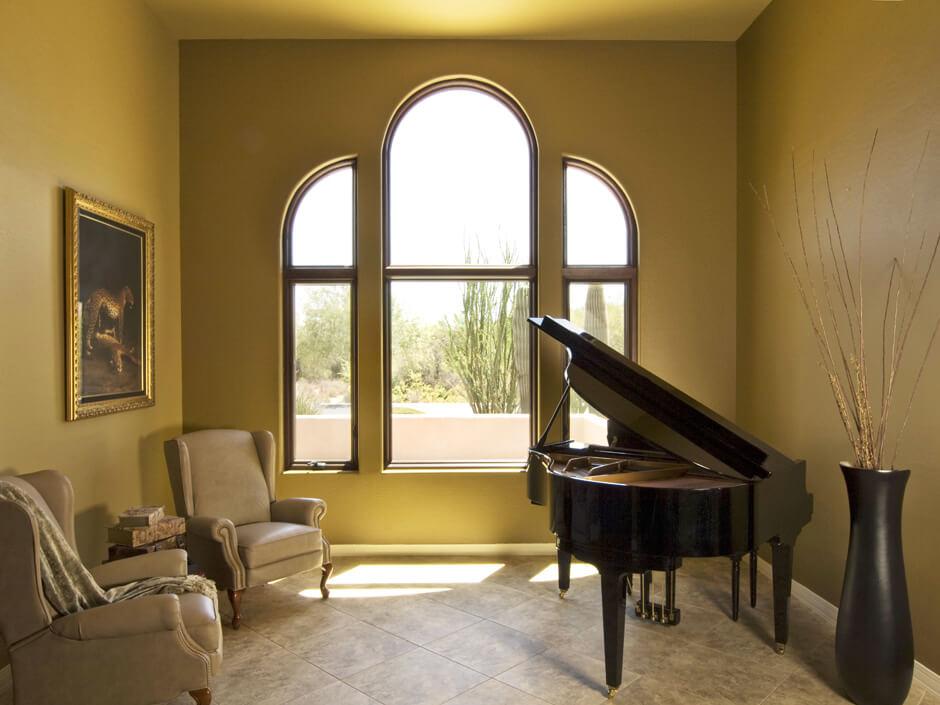 Who needs trim when wood interiors look like this? Our consultants can help you design your dream.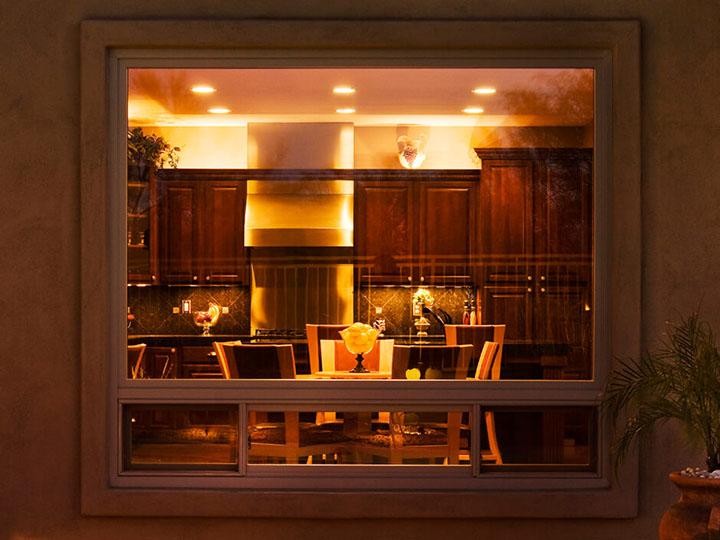 Clever use of a gliding window combined with a picture window showcases your individual style.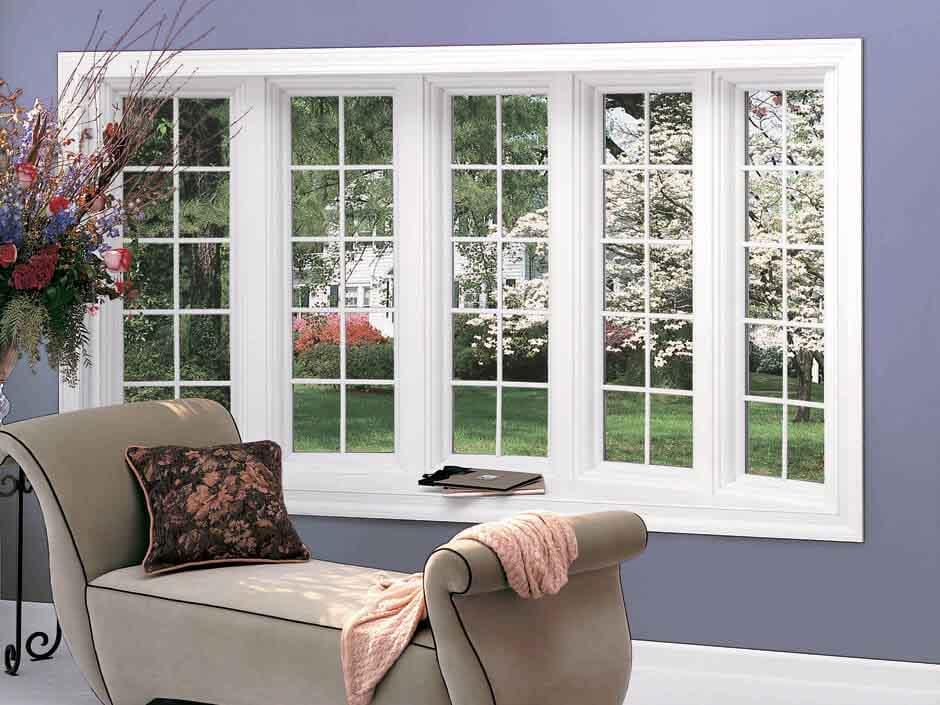 Bow windows are available in 4, 5 & 6 window combinations, plus choose any window style.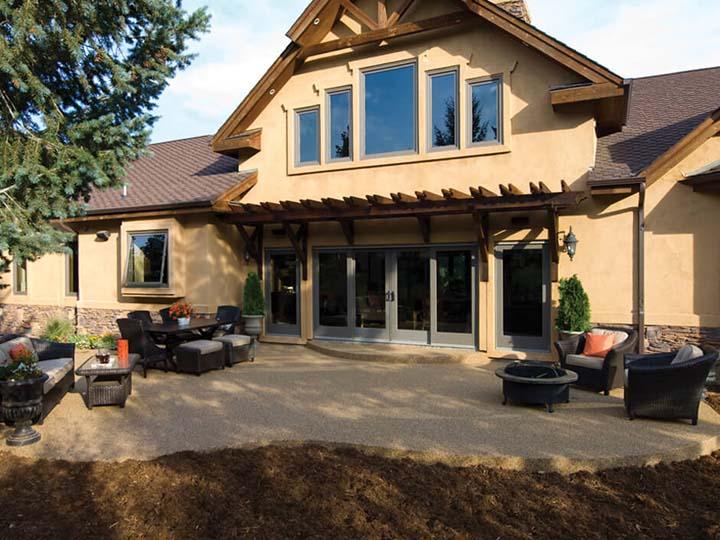 Dark exterior colors look better than white on earth-tone colored houses, enhancing curb appeal.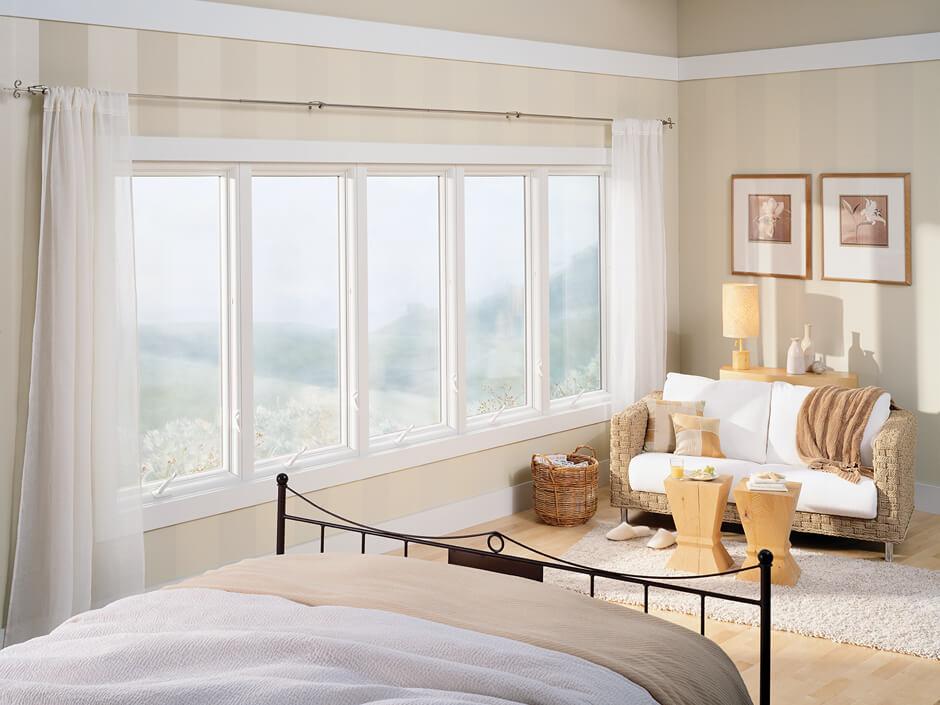 Capture as little or as much breeze as you like (and all of the view!) with a bank of 5 casements.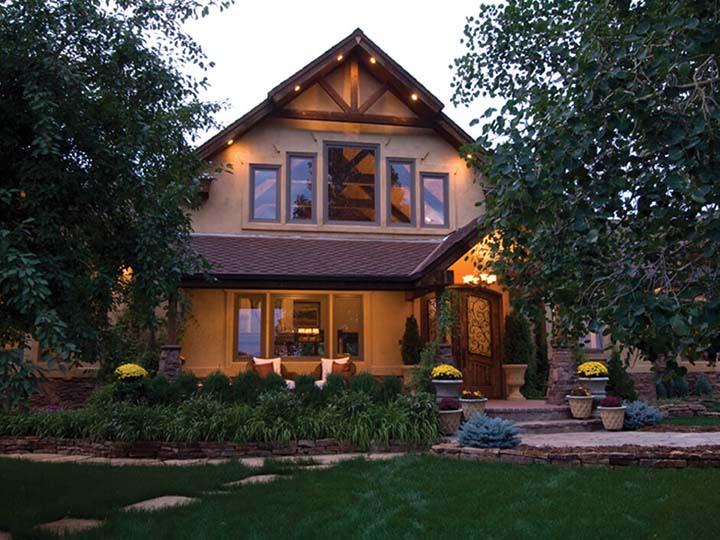 Our windows are custom-sized for every project, for a weathertight fit and maximum glass area.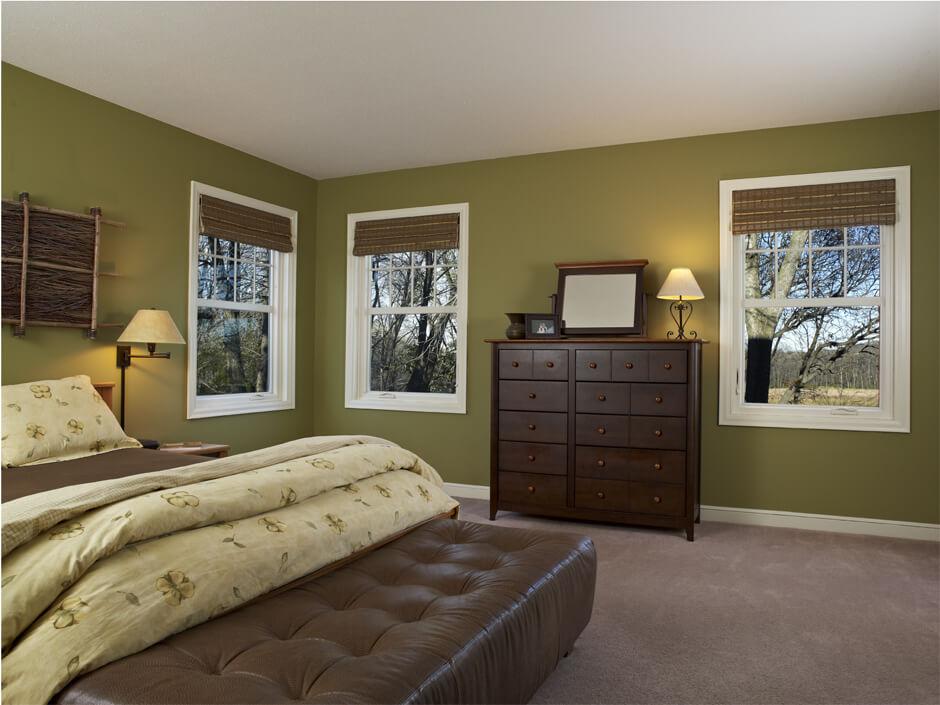 Custom grilles make these casements look like historically-accurate double hungs on the outside.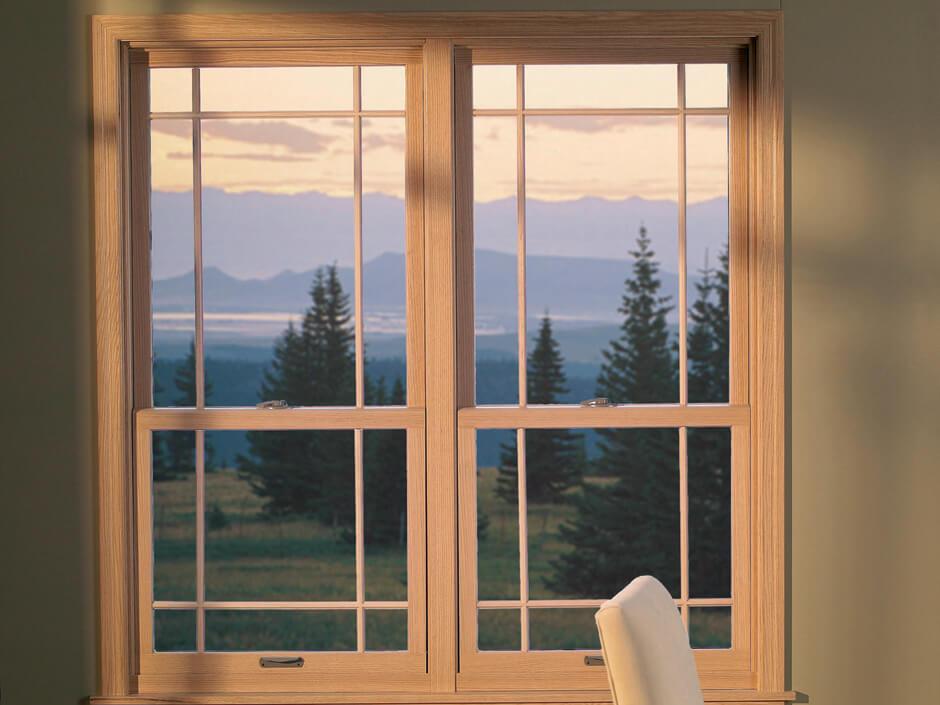 So many options! Oriel styling (top sash larger), real wood interior and modified prairie grilles.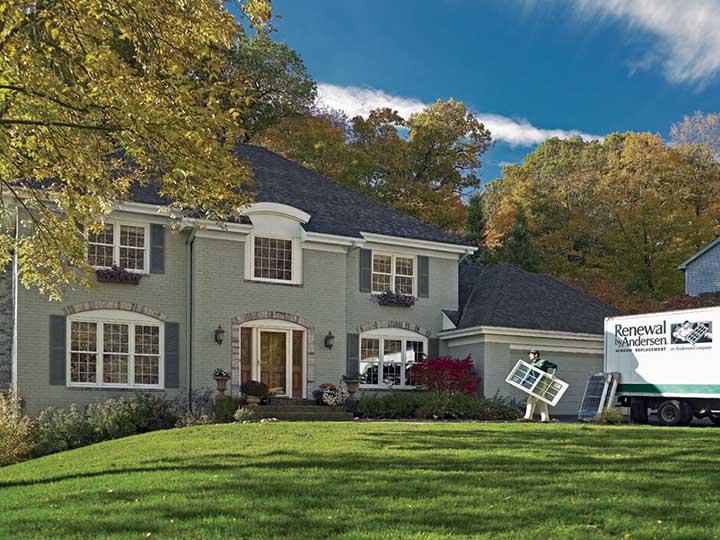 Installation day is a great day, but you'll wonder why you waited so long.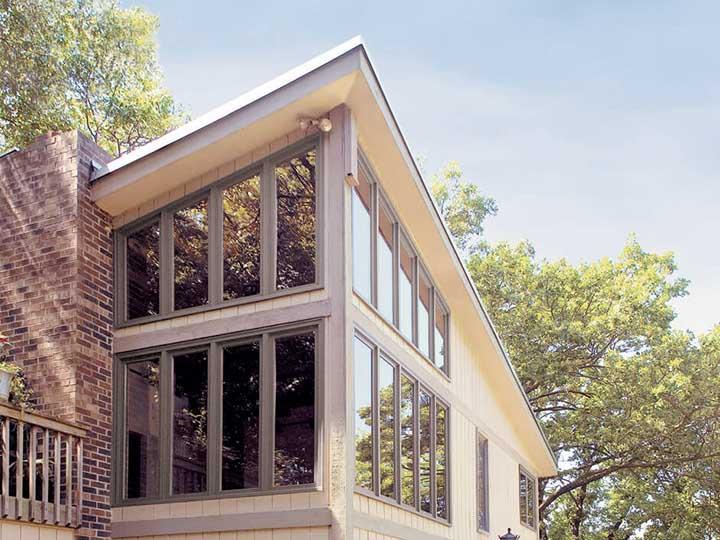 Vinyl can't take the heart of dark exterior colors. Our terratone-colored composite frames can!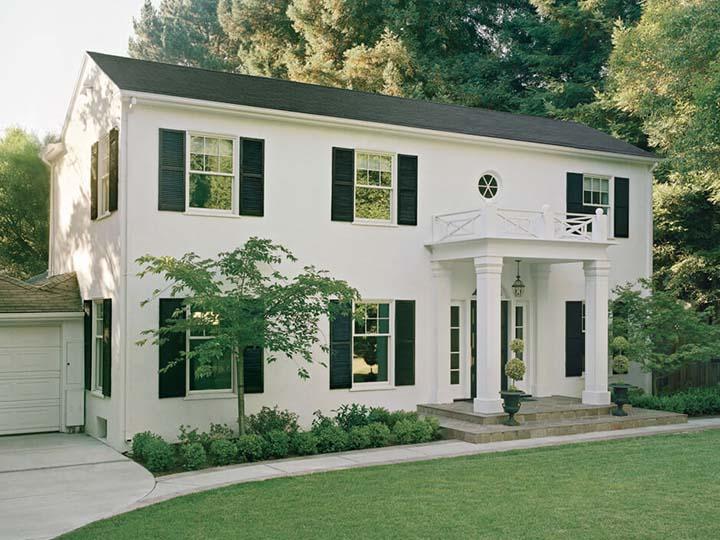 Grilles in the top sash only offer a touch of curb appeal an an unobstructed view from your chair.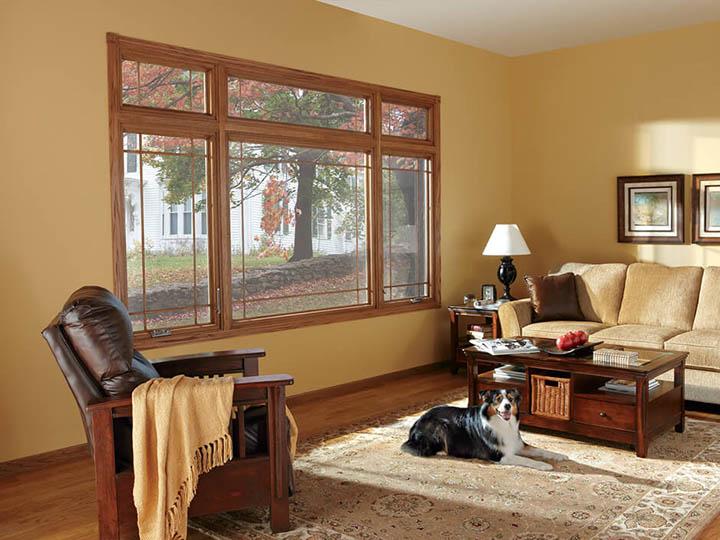 Large openings have many possibilities. Our consultants will help you design what is right for you.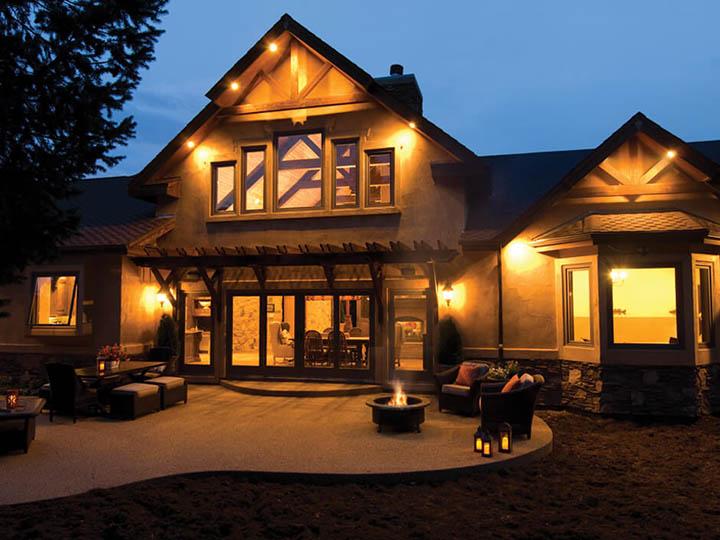 Low maintenance replacement windows and doors means maintaining curb appeal just got easier!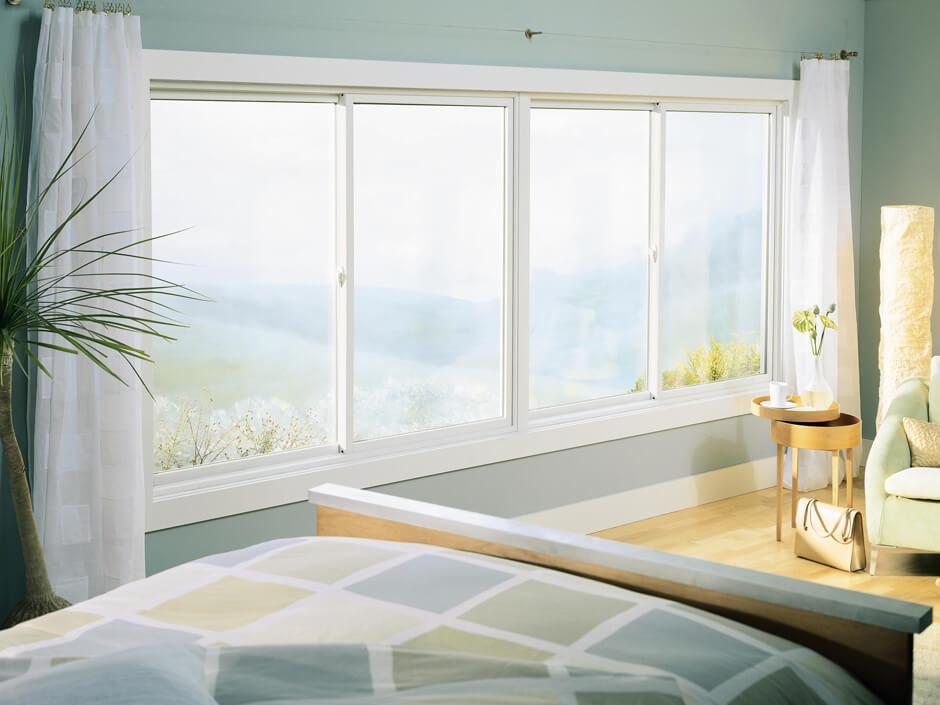 Large openings have large opportunities! Two gliders together make the most of an expansive view.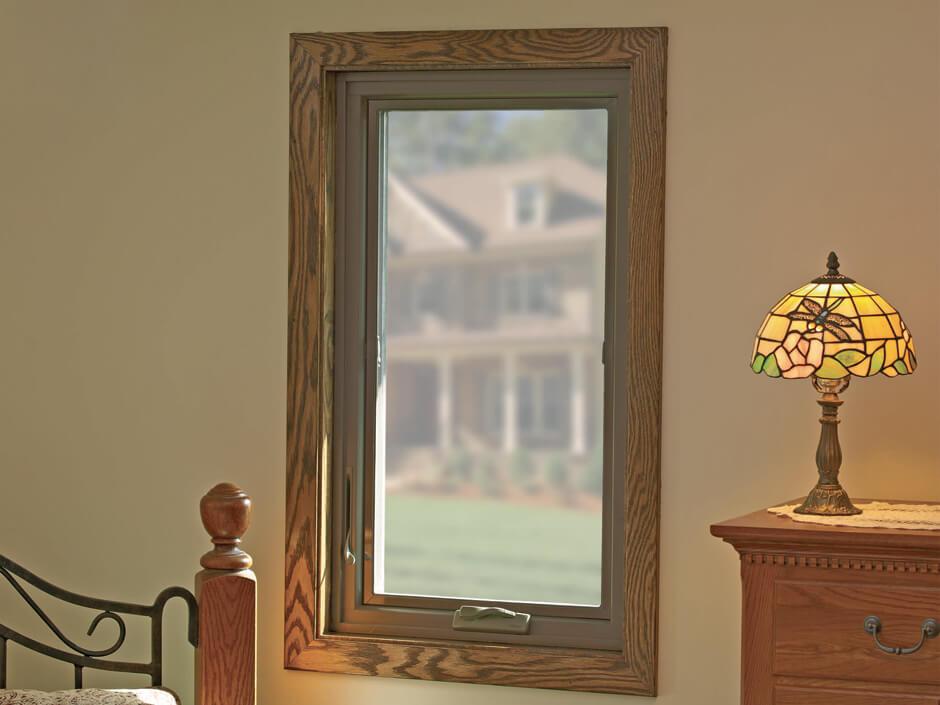 Terratone looks great with dark trim; and nesting hardware wont interfere with blinds.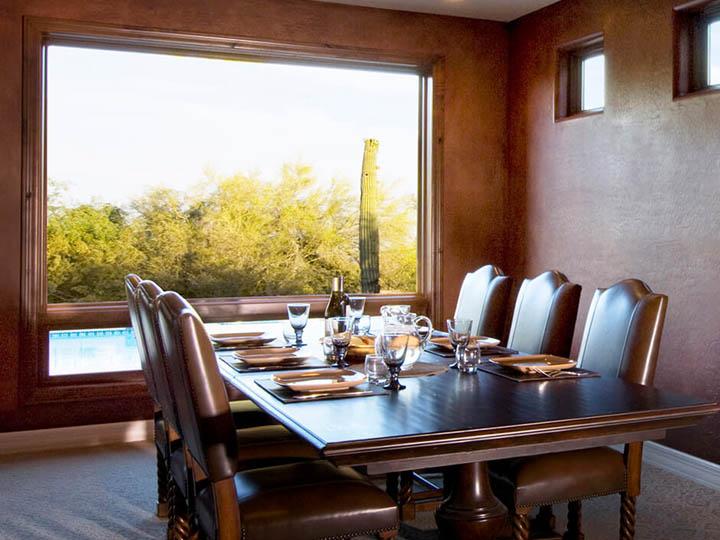 You choose! our real wood interiors are oak, pine or maple & can be stain to match existing.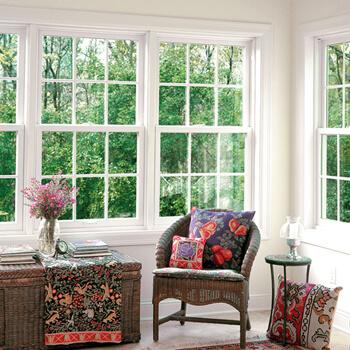 Fibrex composite windows have the strength & durability of wood & are low-maintenance like vinyl/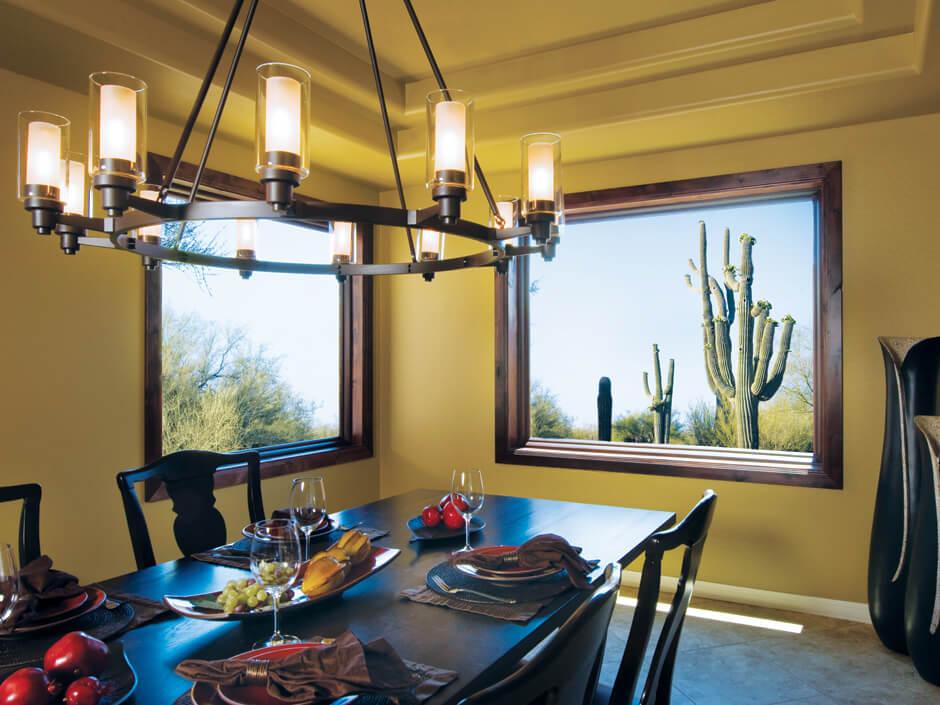 Dining room windows don't have to open. Showcase a fabulous view with a replacement picture window.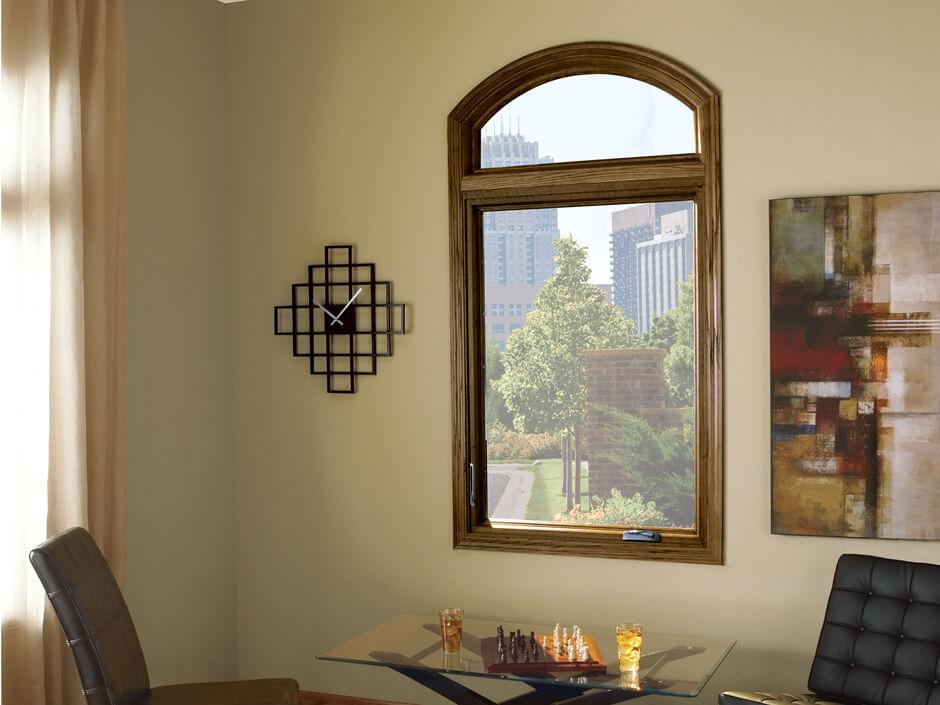 The graceful elegance of a specialty window mulled to a casement looks great inside and out.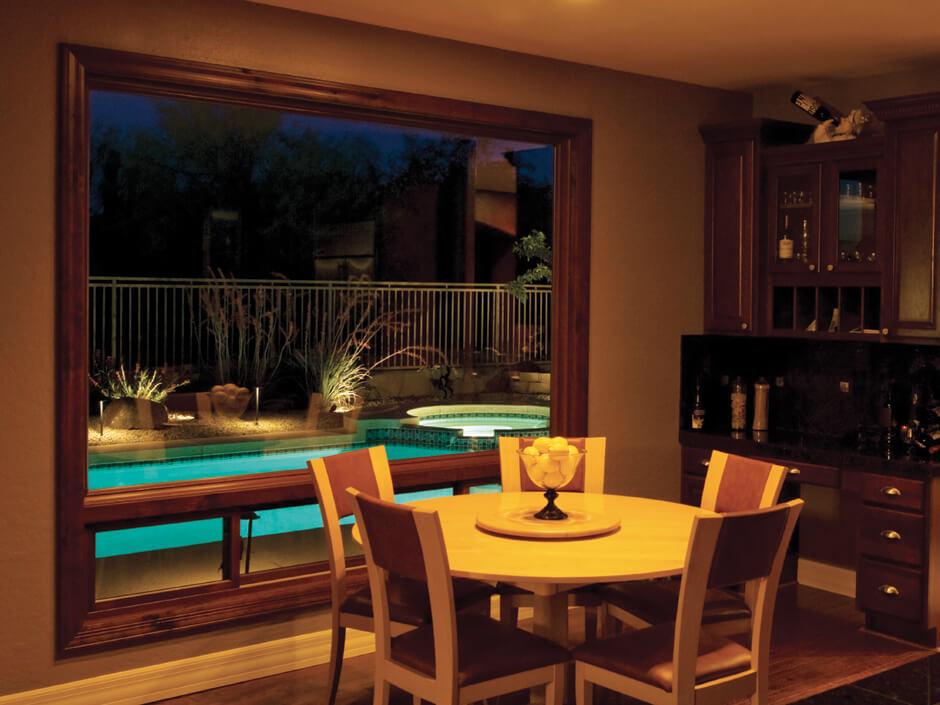 Day or night, oak interior windows look great and add a touch of class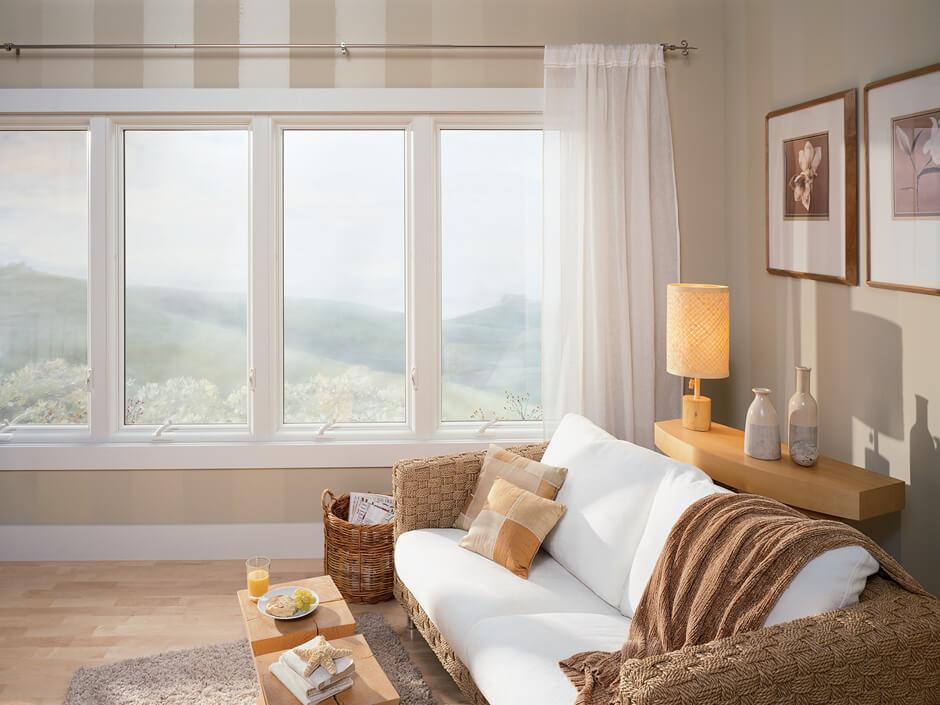 Enjoy the view! Our energy efficient windows will keep the heat our, or in, depending on the season.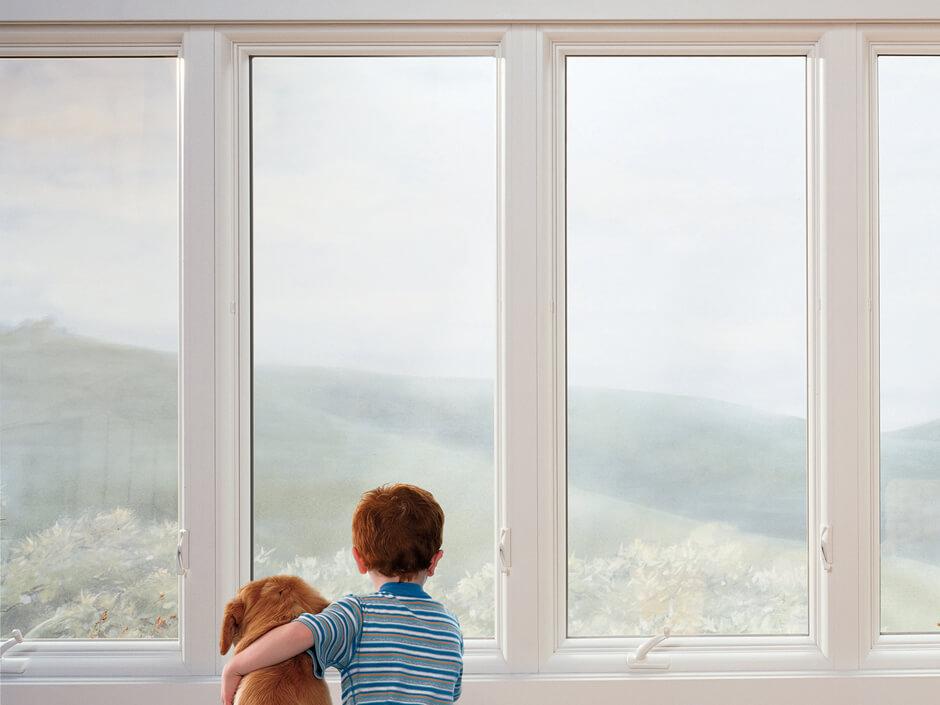 Casement windows provide inspiration views for those who inspire you.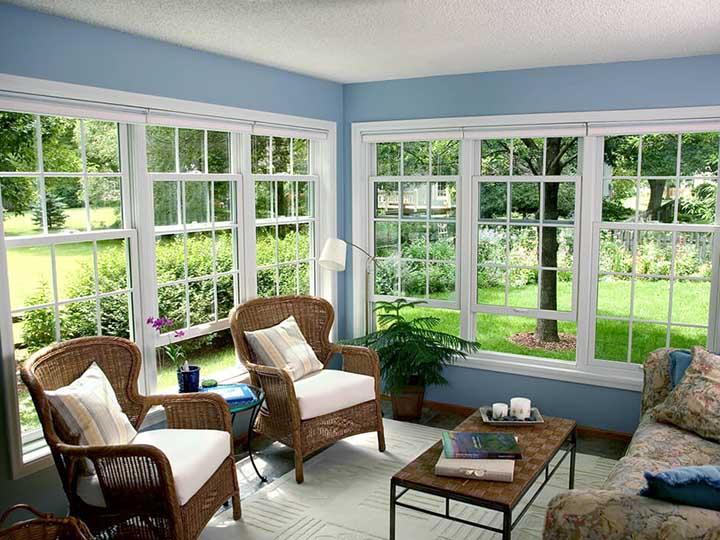 Customize with cottage-style windows (bottom sash is larger). White makes for a crisp, clean look!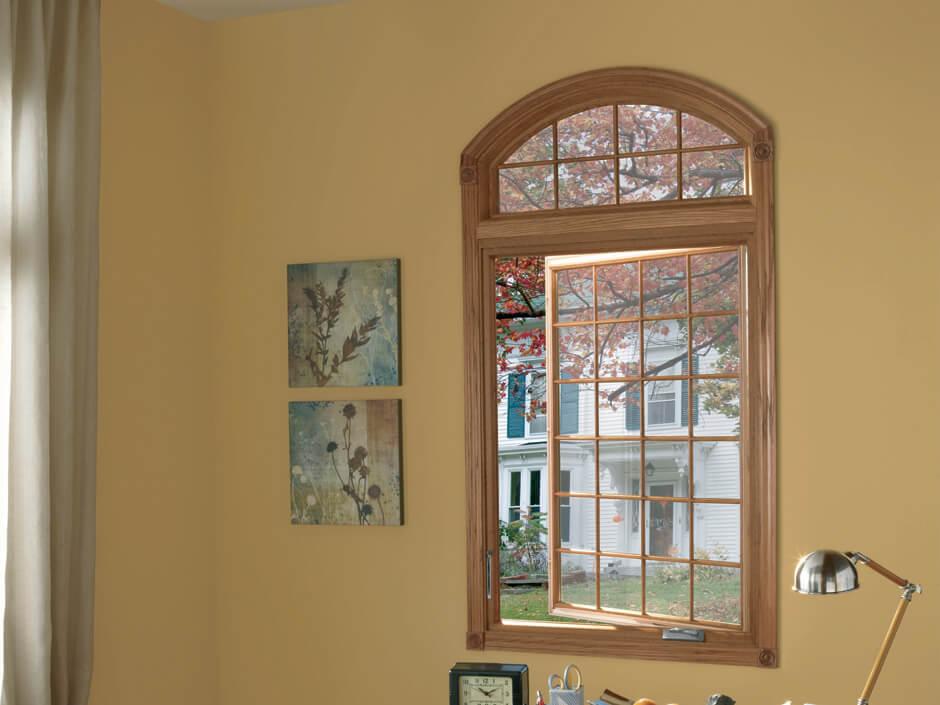 Our exclusive & strong composite framing material enables us to make very large casement windows.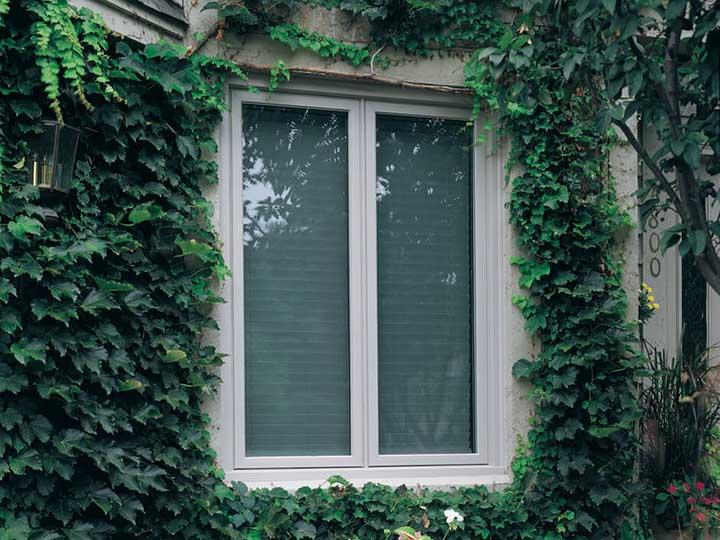 Sandtone is the lightest of our dark exterior colors; yet you still can't get this color in vinyl!
Gothic-patterned grilles on Springline specialty windows make any room heavenly.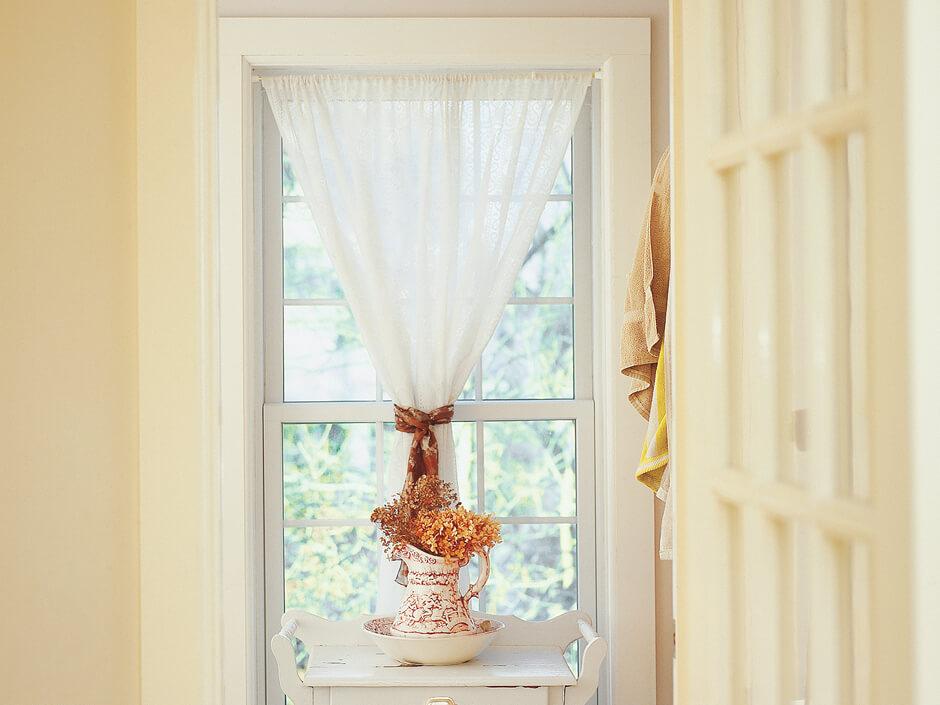 Classic white double hung window adds freshness and light.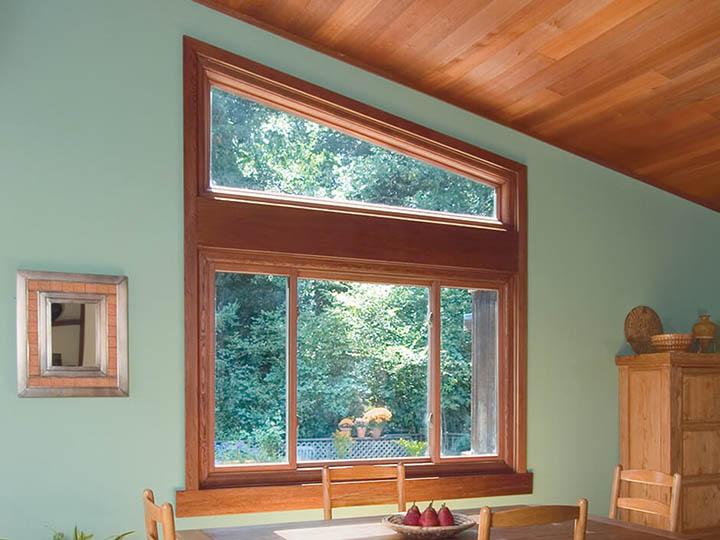 Real wood interiors can be painted or stained to match existing woodwork. Imagine the possibilities.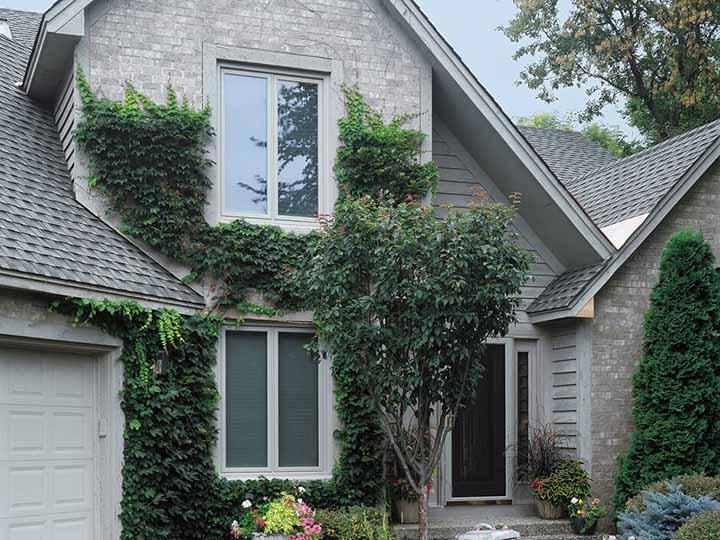 Bright white would not look as nice. we can blend your windows with your architecture.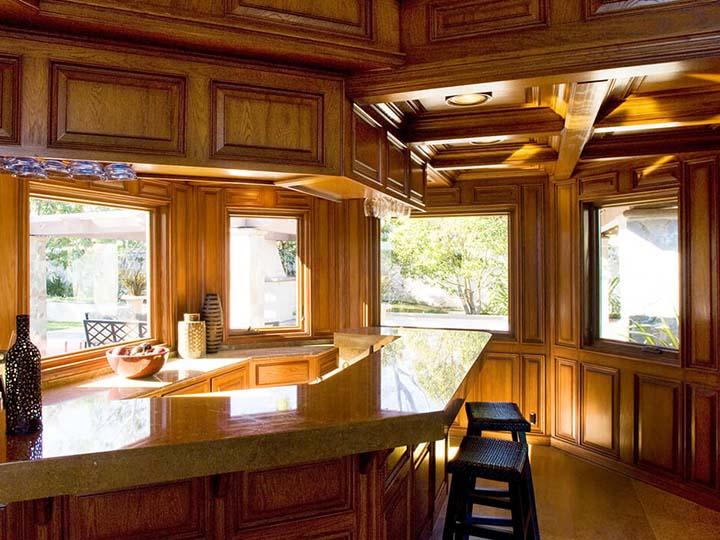 Aren't you glad white isn't your only option in replacement windows? Wood interiors look great here.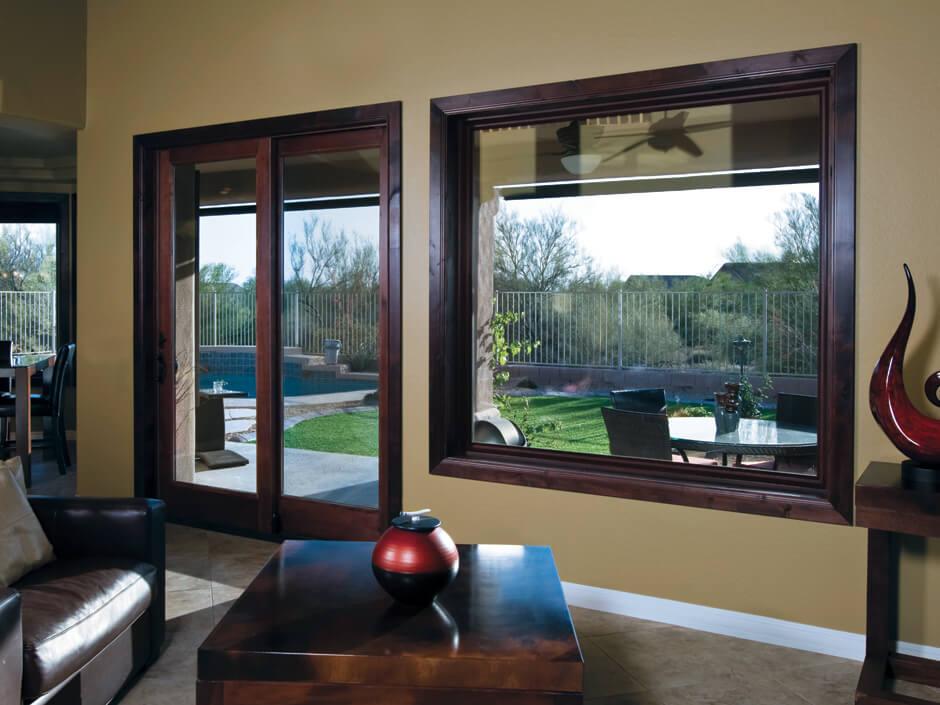 Wood interior windows & doors can be stained to match each other, with stunning results.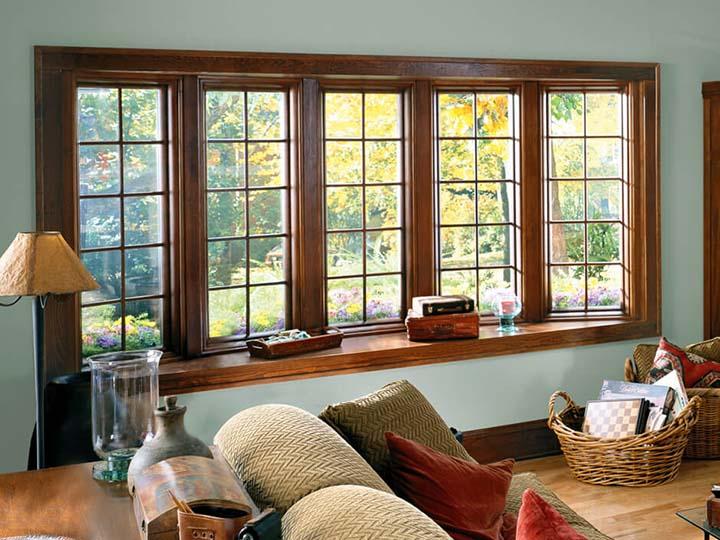 The graceful arch of a 5 window bow brings a touch of elegance to any room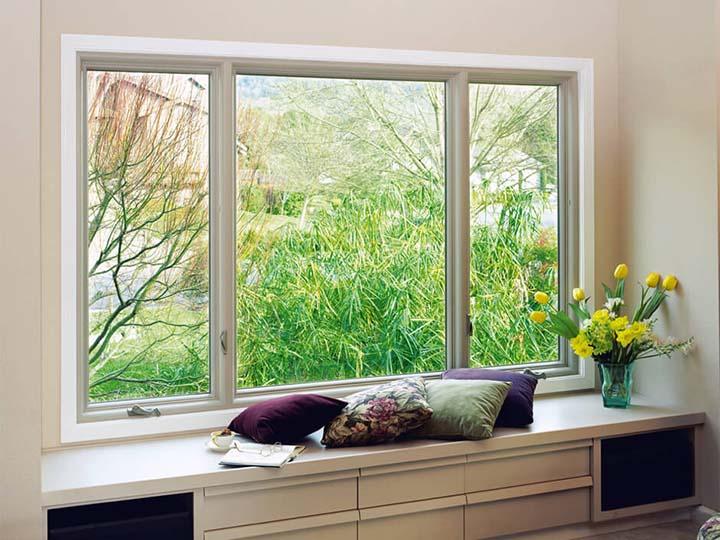 Imagine the possibilities for large openings! Keep or change the current configuration.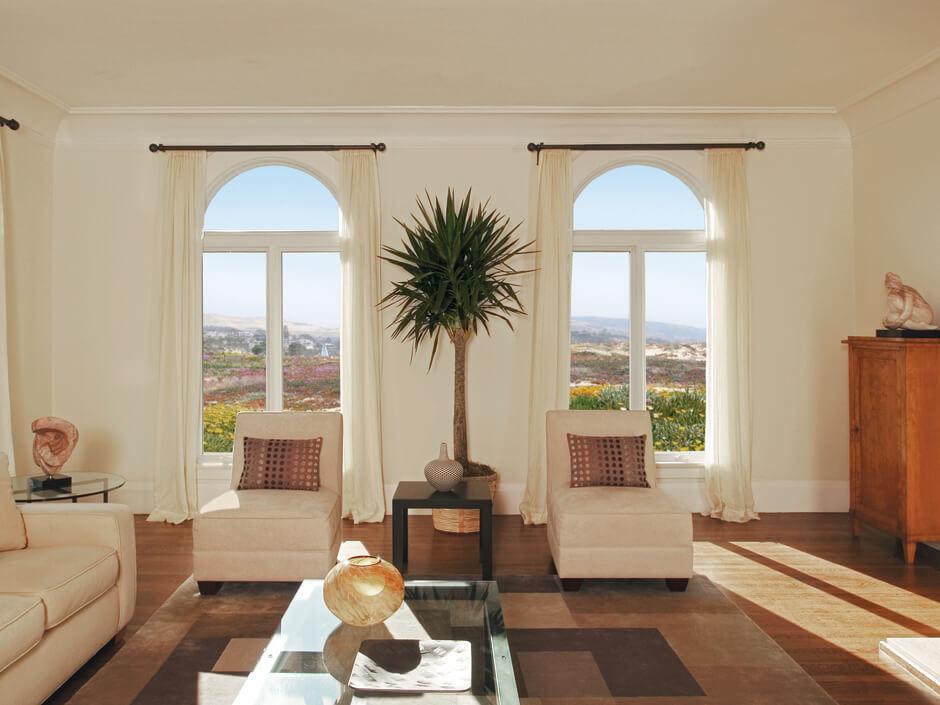 Choose your style! Specialty widows can be mulled to any venting window; these are white casements.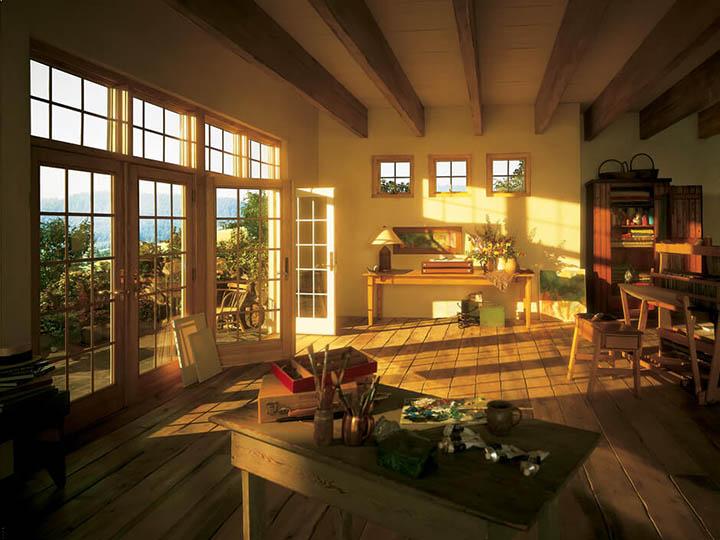 Open up your room to the outside in a big way with Frenchwood inswing patio doors.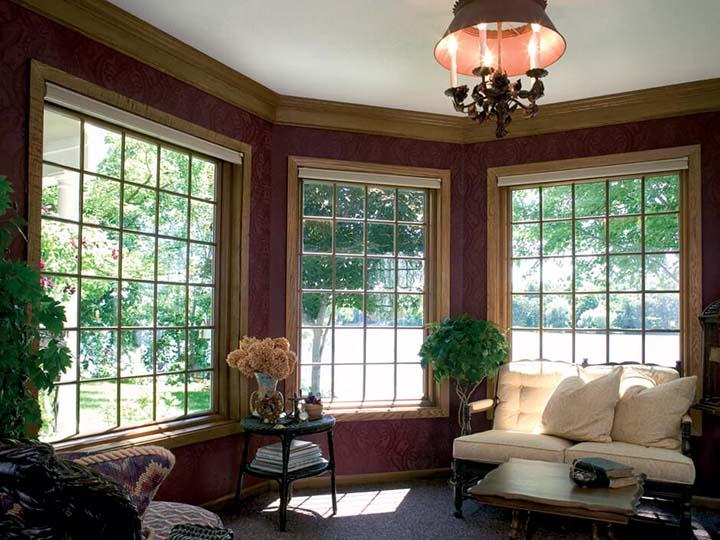 Challenging installation? No problem. These windows are in a stone turret!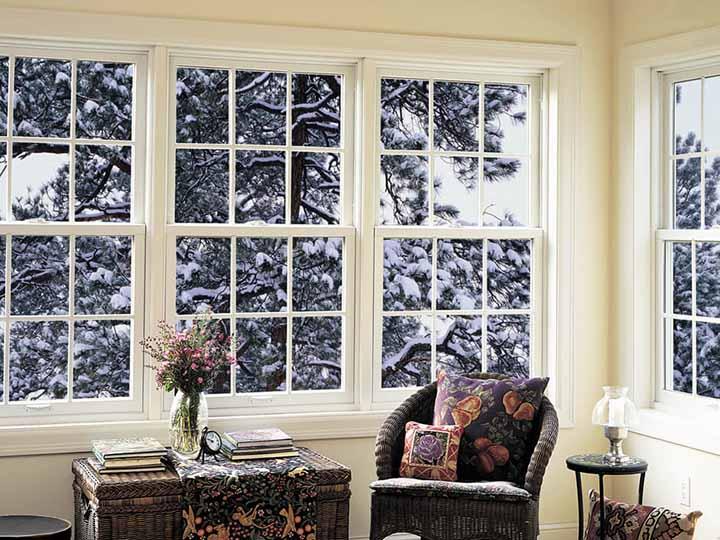 Banish the drafts with energy efficient window replacement from Renewal by Andersen.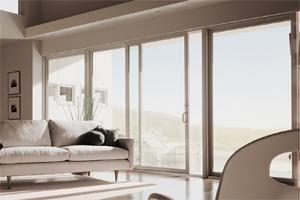 Perma-Shield gliding patio doors have a contemporary look & feel, and tehy maximize glass space.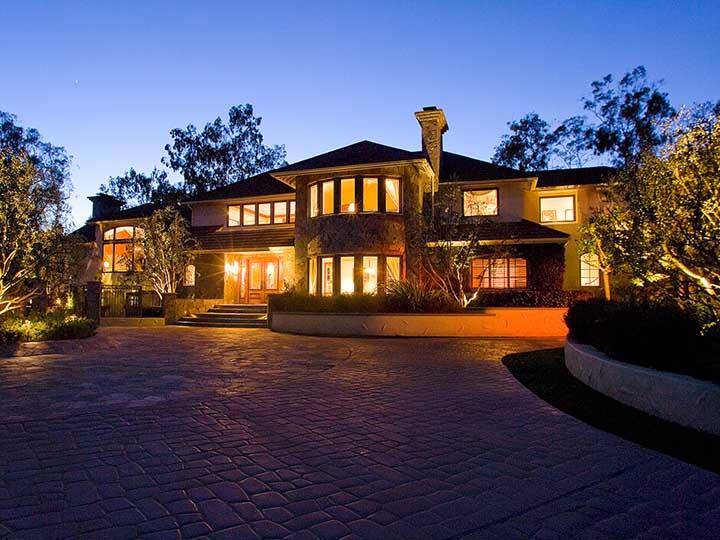 No more painting & scraping! Spring cleaning is a breeze with our low-maintenance composite.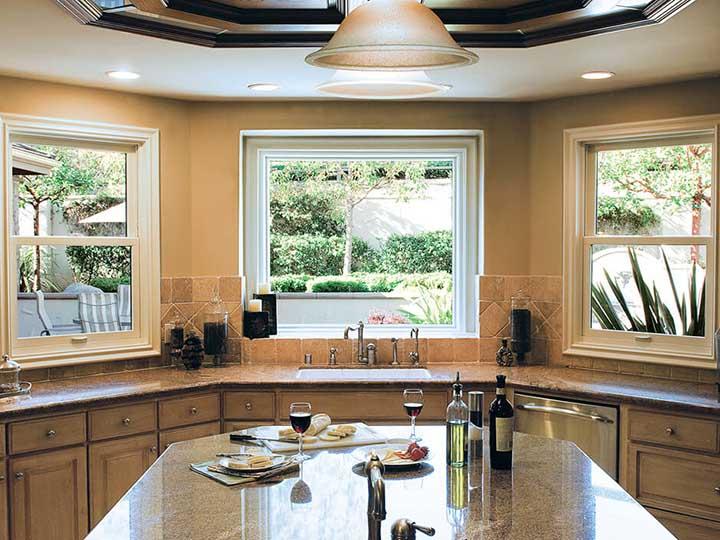 A picture window flanked by two double hungs offers an uninterrupted view & ventilation as desired.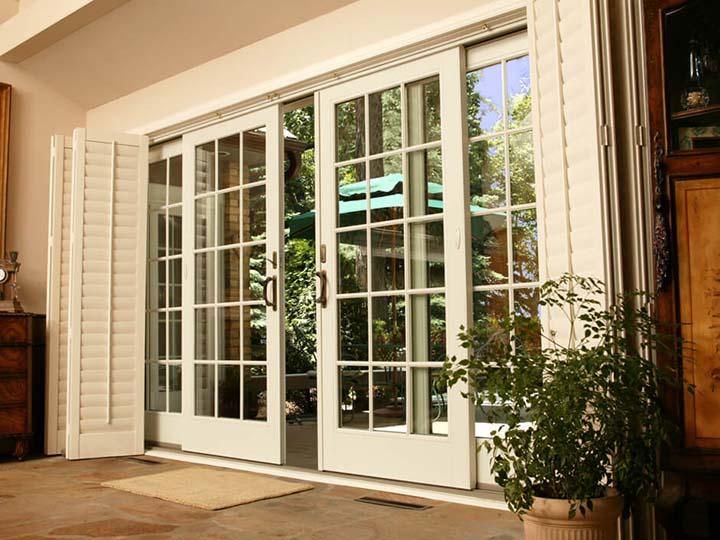 Endless possibilities. This Frenchwood patio door glides toward the middle for a dramatic entrance.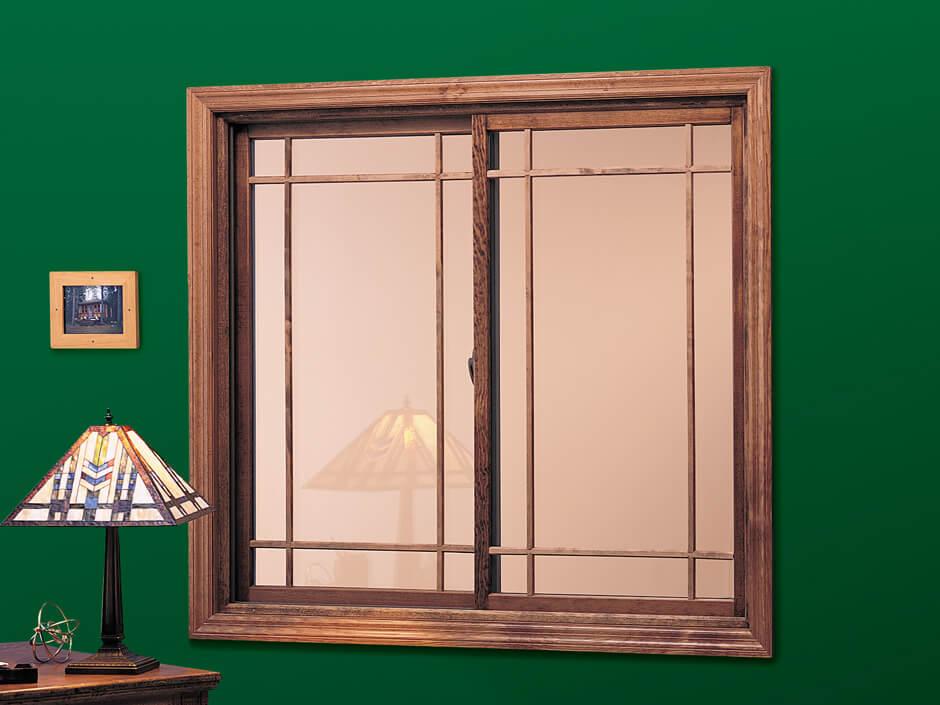 Gliding windows have endless possibilities for grilles. Choose from our variety, or design your own!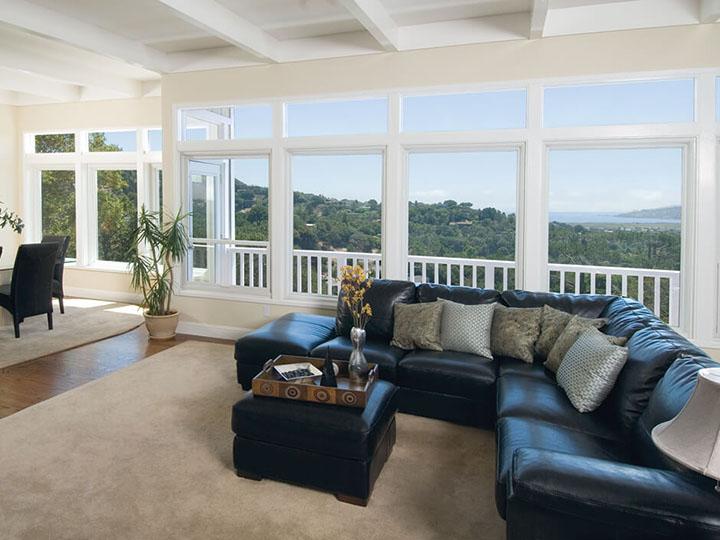 Large & small picture windows can be mulled together to maximize light and spectacular views.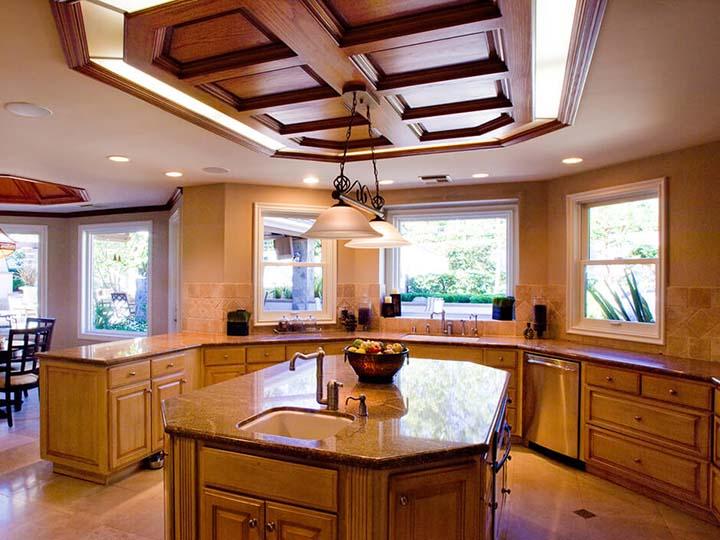 Our double hung windows can open from the bottom and top for ventilation right where you want it.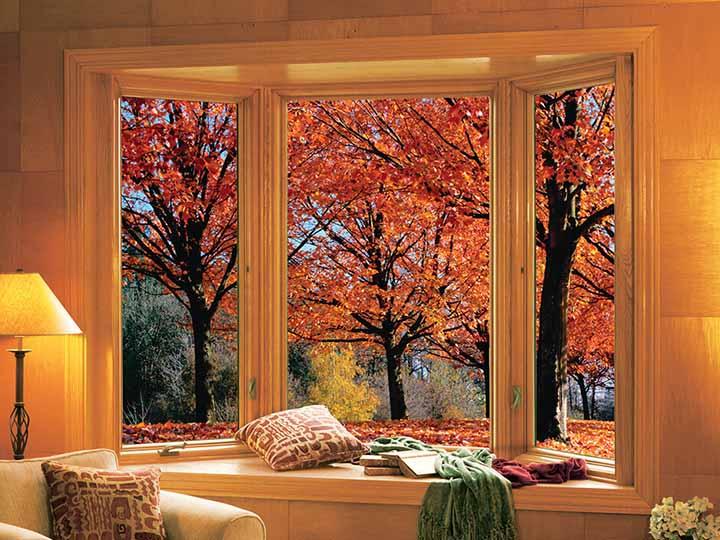 Bring in the brilliance of fall colors with bay windows!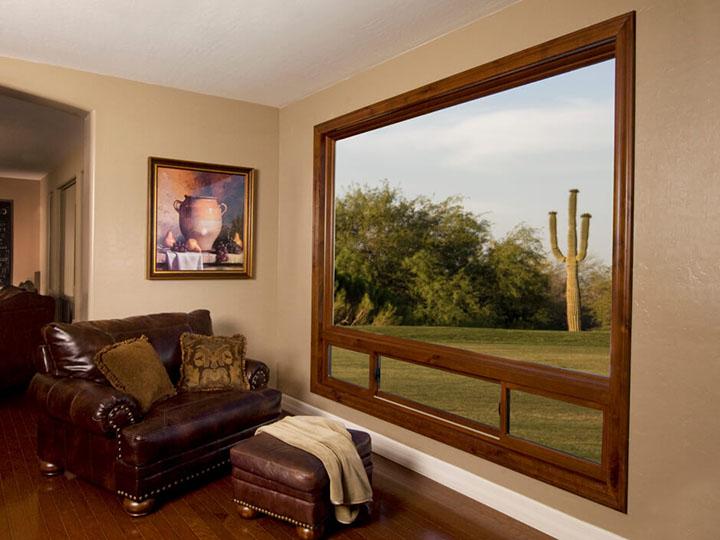 A bit of breeze. We'll help you turn a large opening into windows that function for your lifestyle.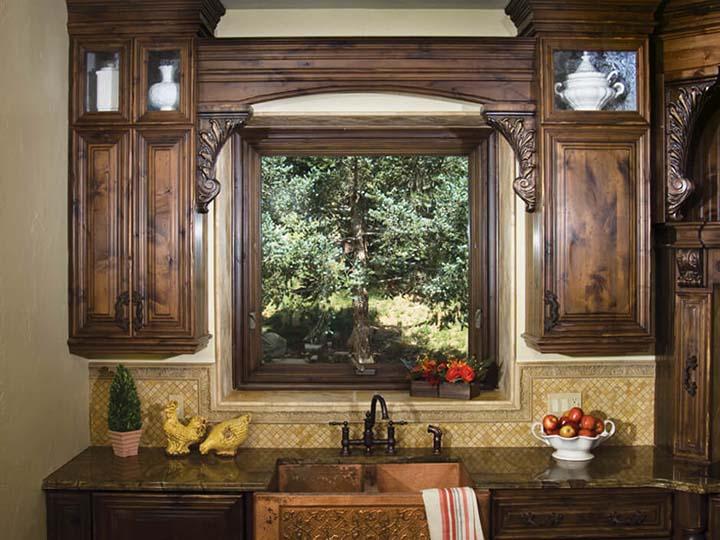 Wood interior awning windows can be stained to match your existing kitchen cabinets!
Catch a breeze with an easy reach over the countertop.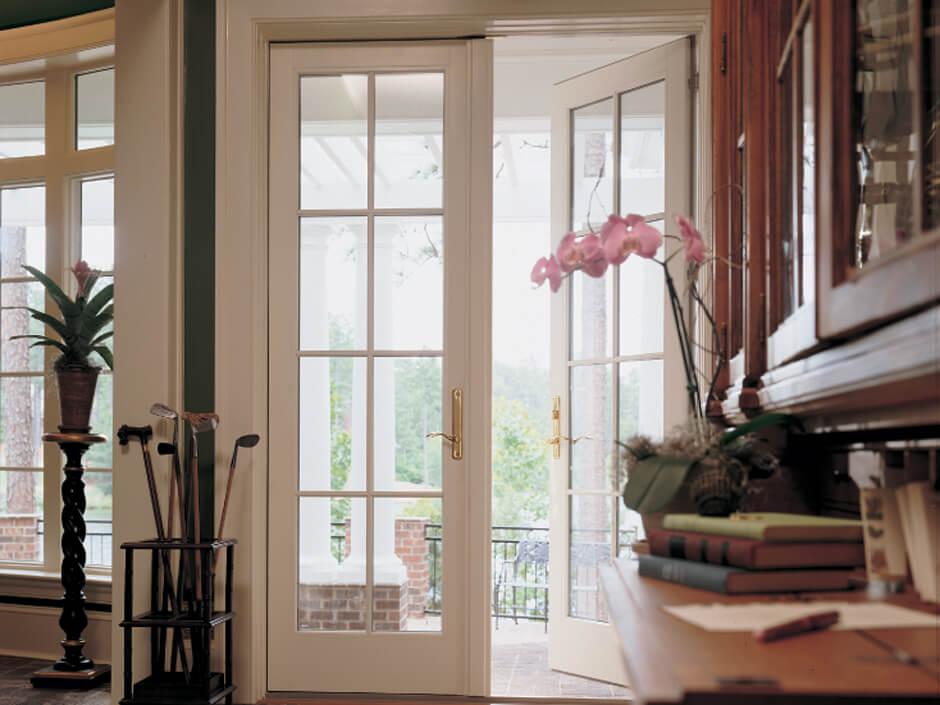 Hinged Frenchwood patio doors open wide for a grand entrance or accessibility.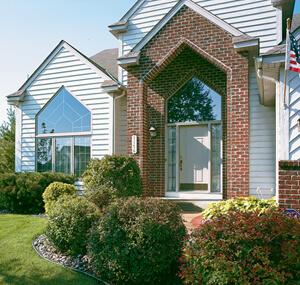 You dream it; chances are we can make it. These custom-patterned grilles add drama and curb appeal.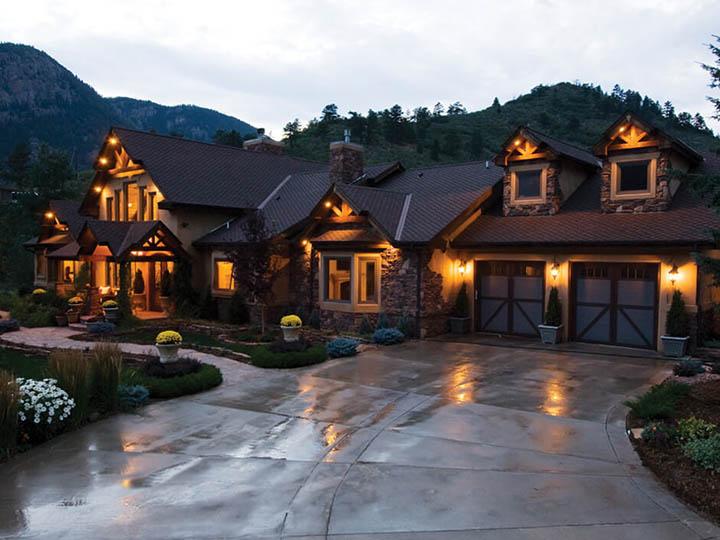 Drama abounds without the glaring contrast of white exterior windows.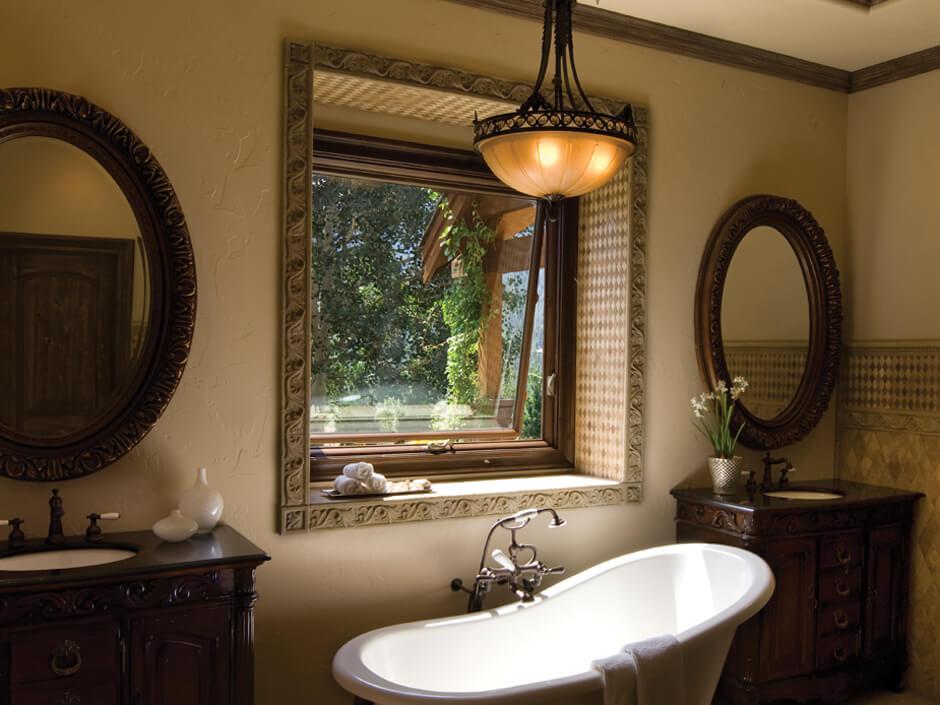 Awning windows let a little fresh air in and keep the rain outside.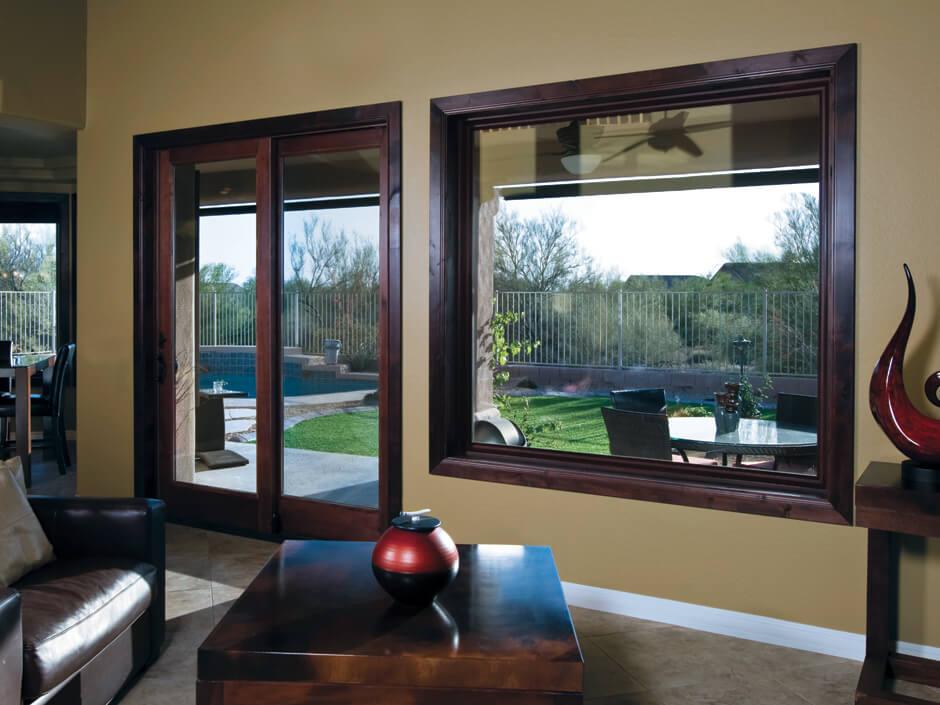 It's like a picture frame of the outdoors! Real wood interiors can be stained to your taste.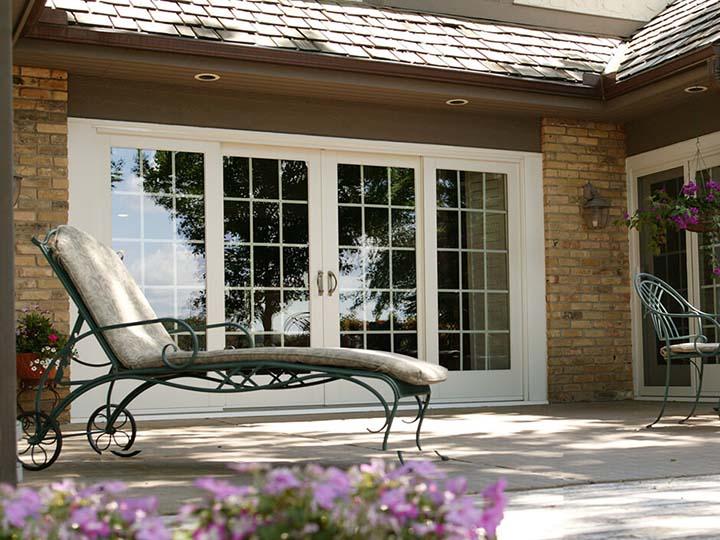 Exterior view of Frenchwood gliding patio door that opens from the middle. Unique!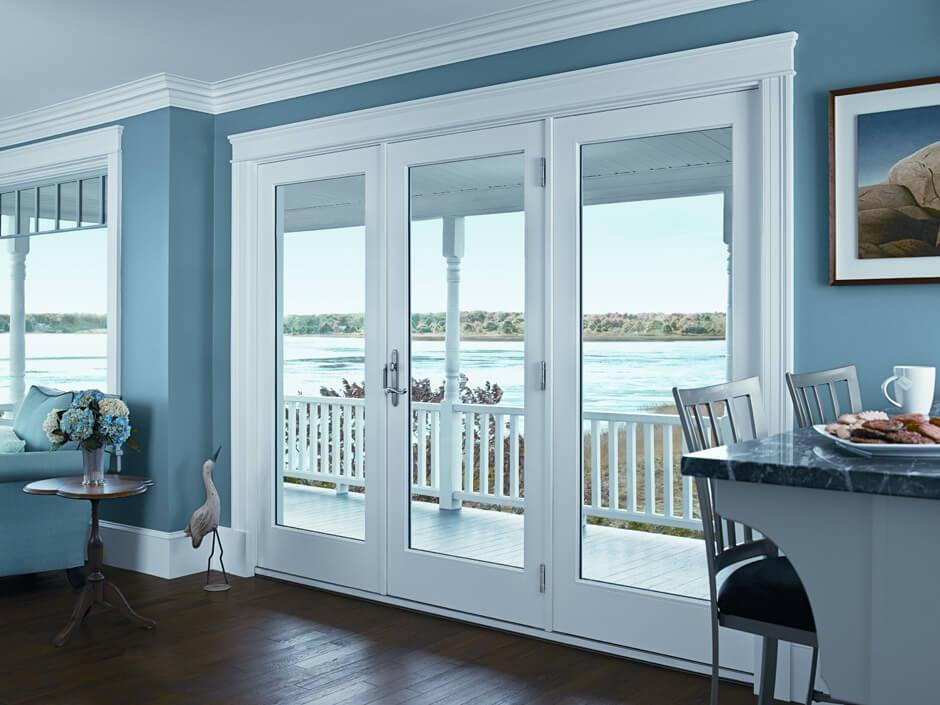 This single-hinged door is space-saving without giving up light or the view.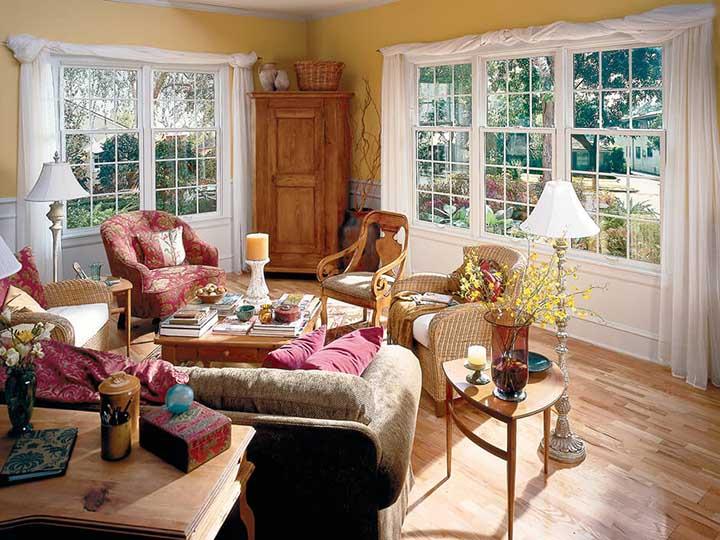 Customize your home with cottage style windows (where the lower sash is larger than the upper one).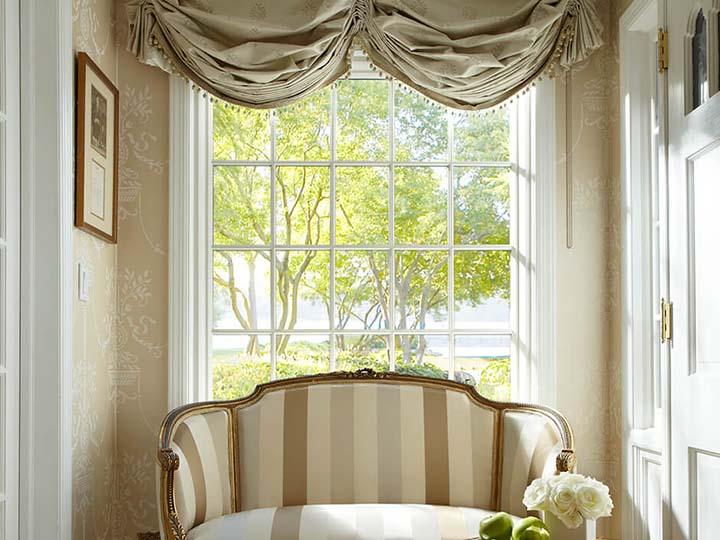 Replace a venting window you never open with a picture window and let the light shine in!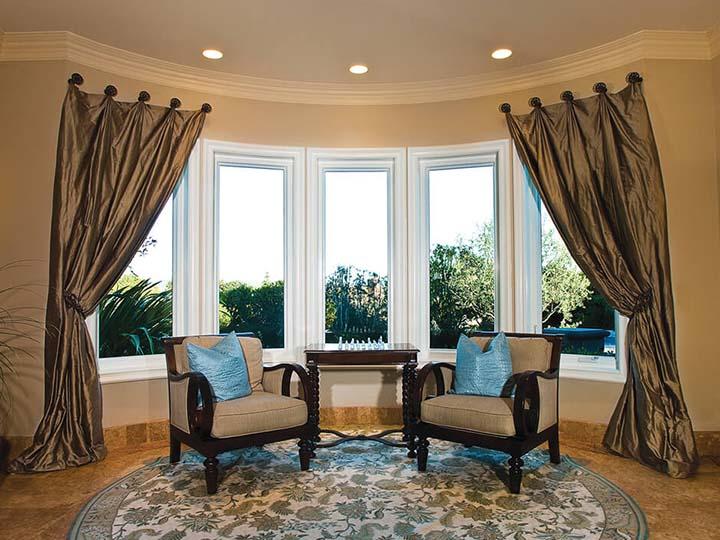 No installation is too challenging for our expert installers, curved walls or straight, no problem!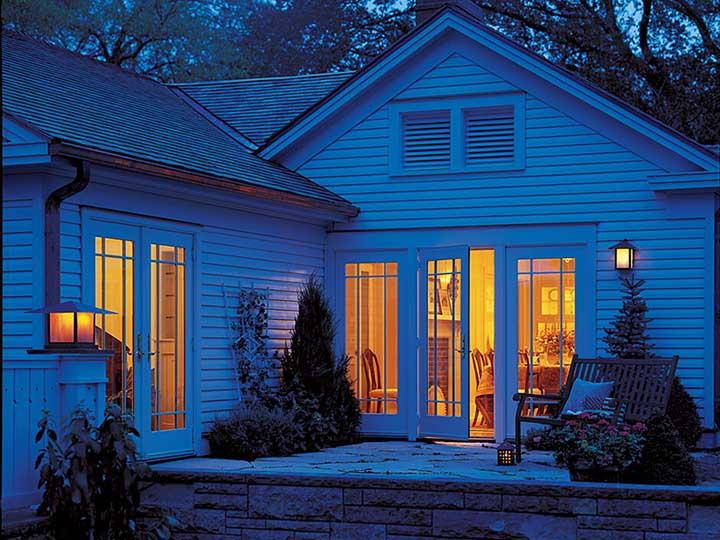 These backlit sidelights & patio doors become artwork with the addition of prairie-style grilles.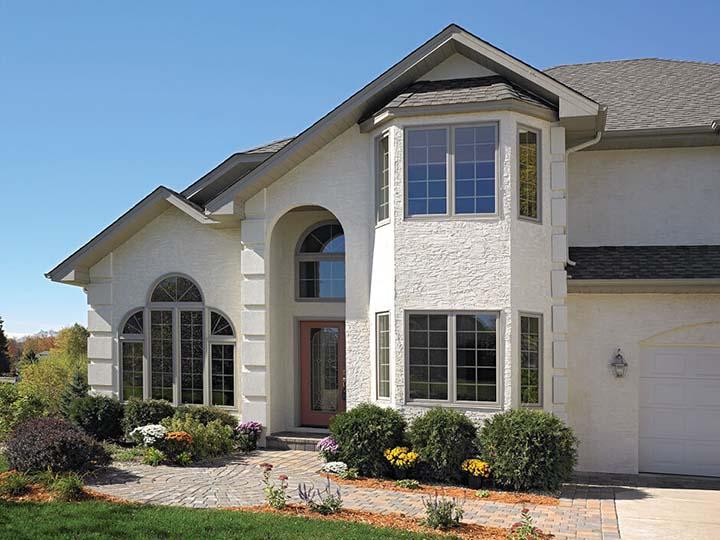 Dramatic window configurations are enhanced by the choice of exterior colors other than white.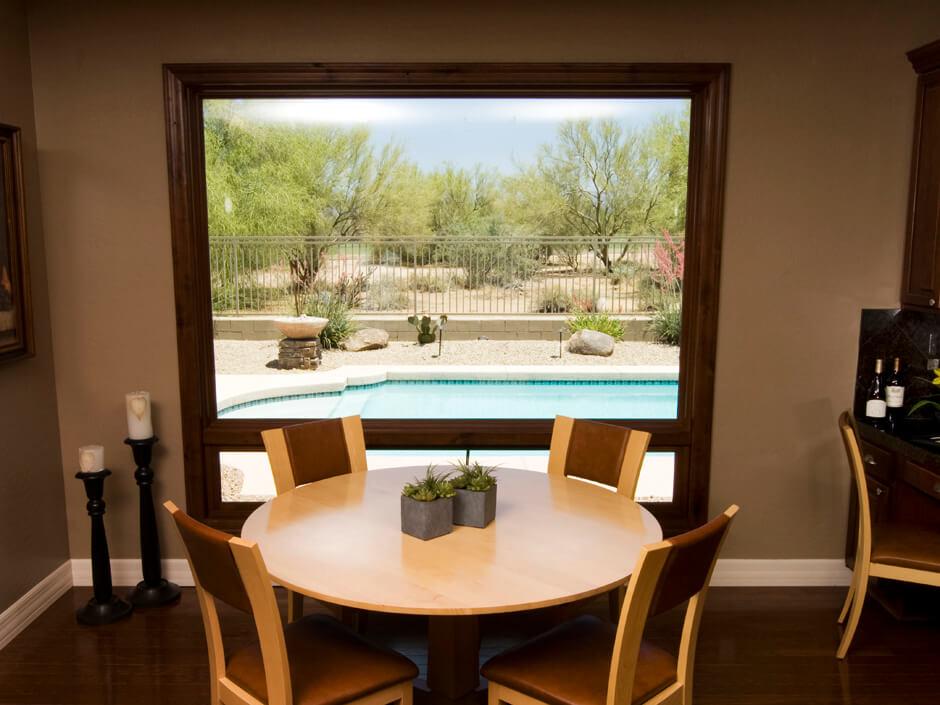 You won't lose a great view. Our windows are custom-sized to maximize replacement glass space.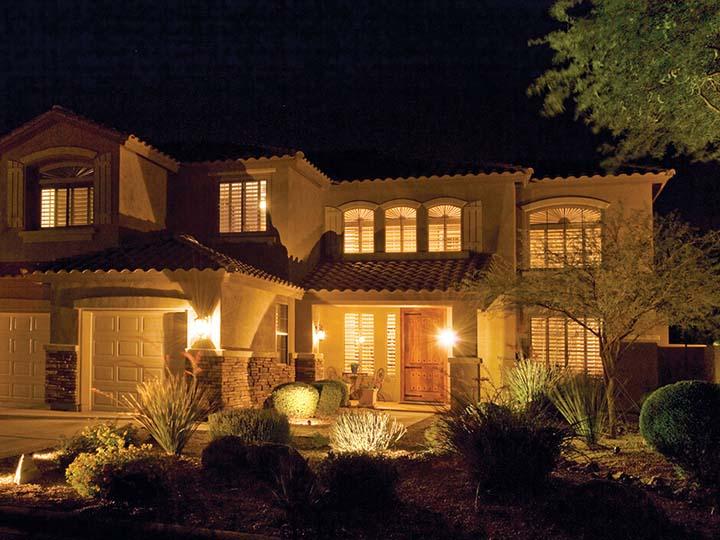 Exterior detailing around your replacement windows can also help change the look of your home.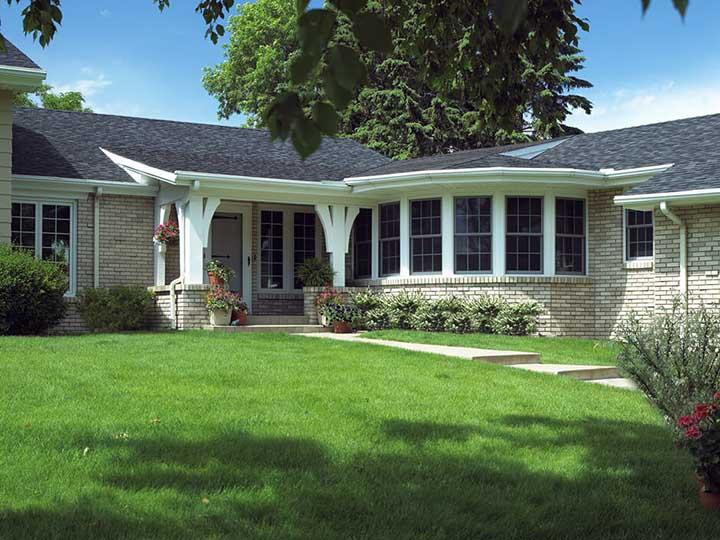 Curved walls and brick exteriors are no problem for our expert installers!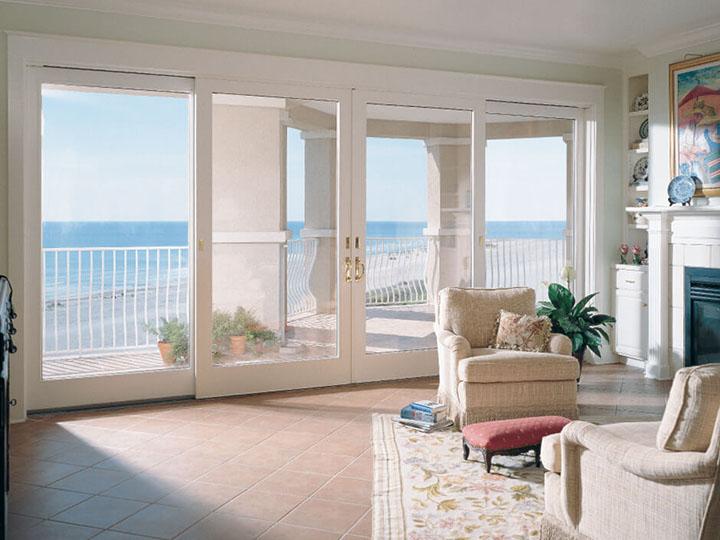 Get the look of traditional French doors, and the space-saving features of a gliding door!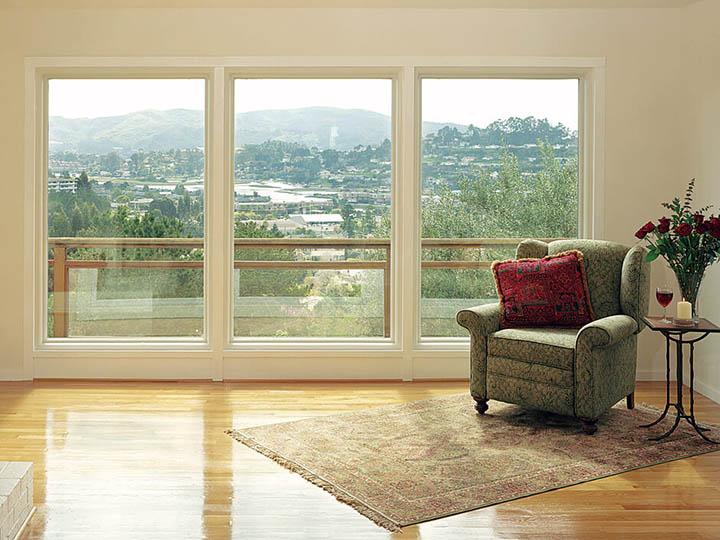 Have you ever considered replacing a patio door with large picture windows? We can help!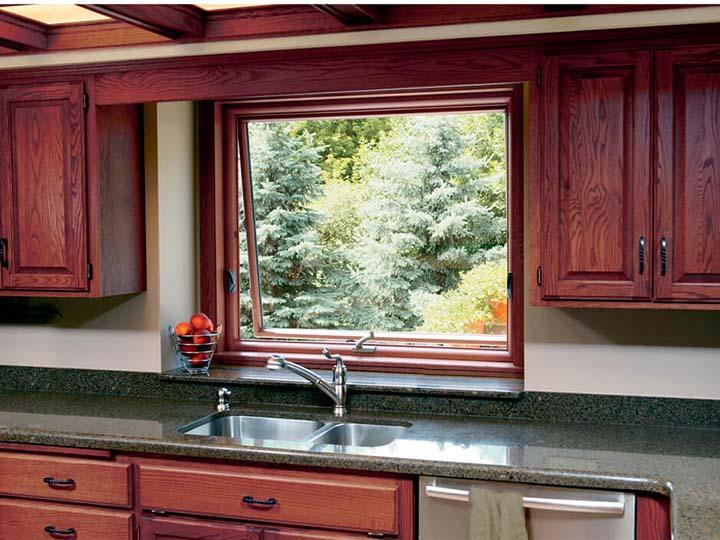 A beautiful oak awning window provides easy access above a kitchen sink.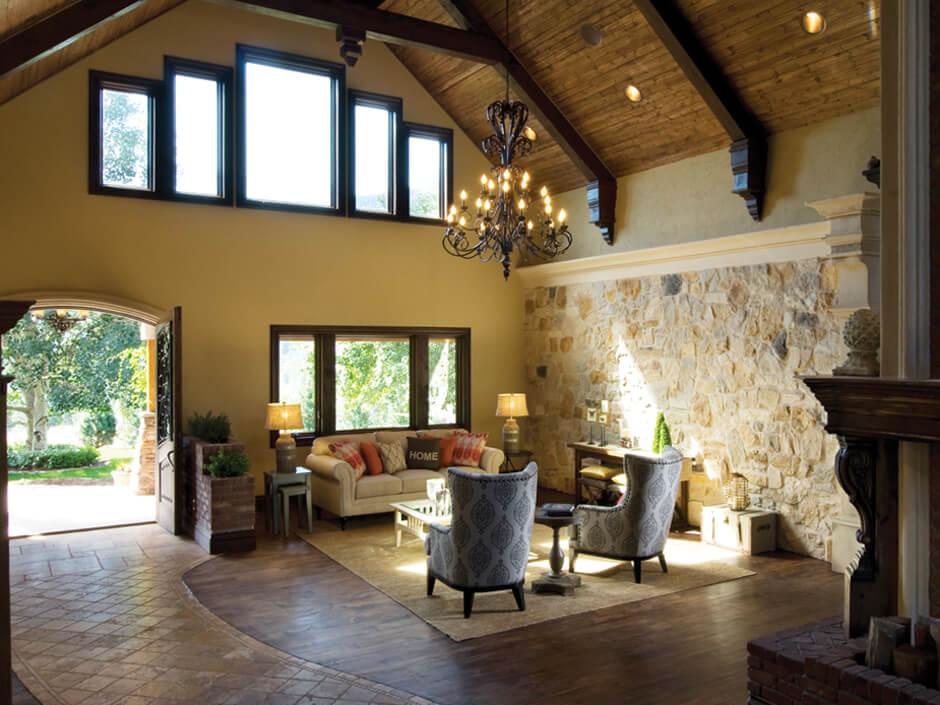 We make picture windows of all sizes - and can combine them with all other window styles.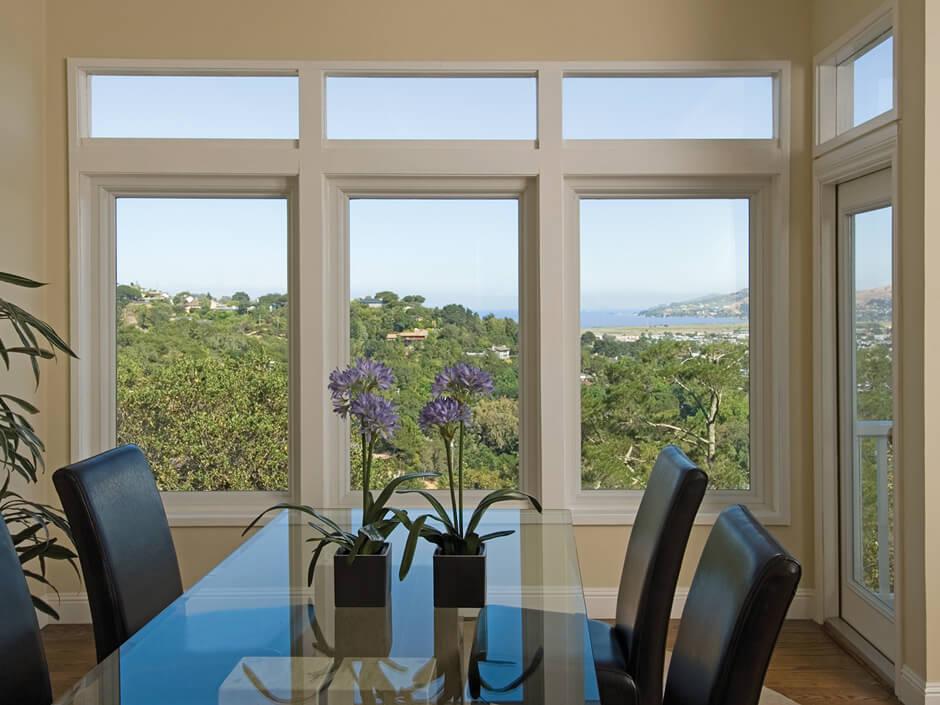 This homeowner opted for a dramatic combination of picture windows in the dining room.
Mix and match window styles for your needs in a specific room, get continuity from matching grilles.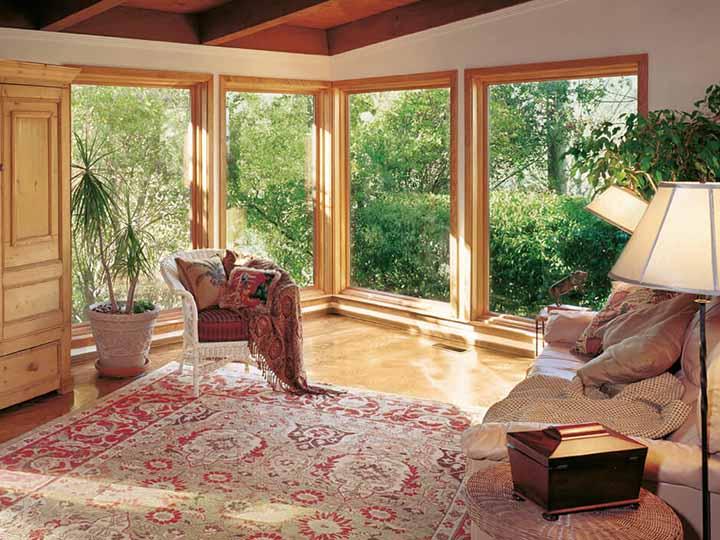 Our composite windows can be made with a real wood interior which can be stained to match your room.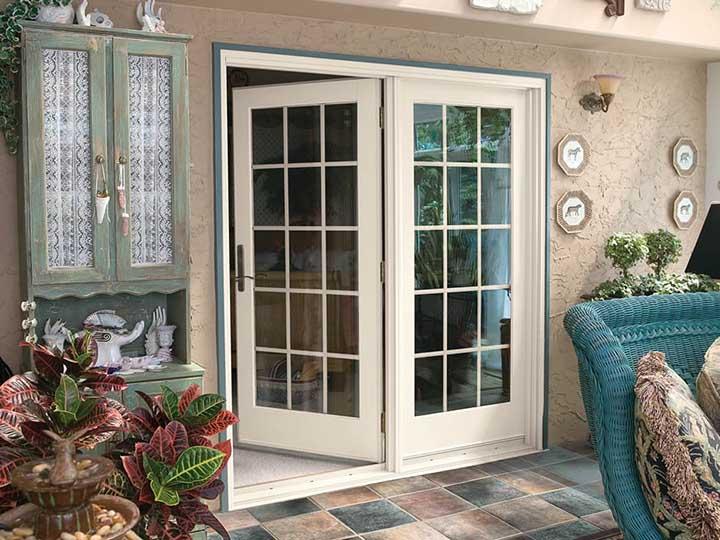 Lots of options! Our design consultants help you determine the right configuration for your space.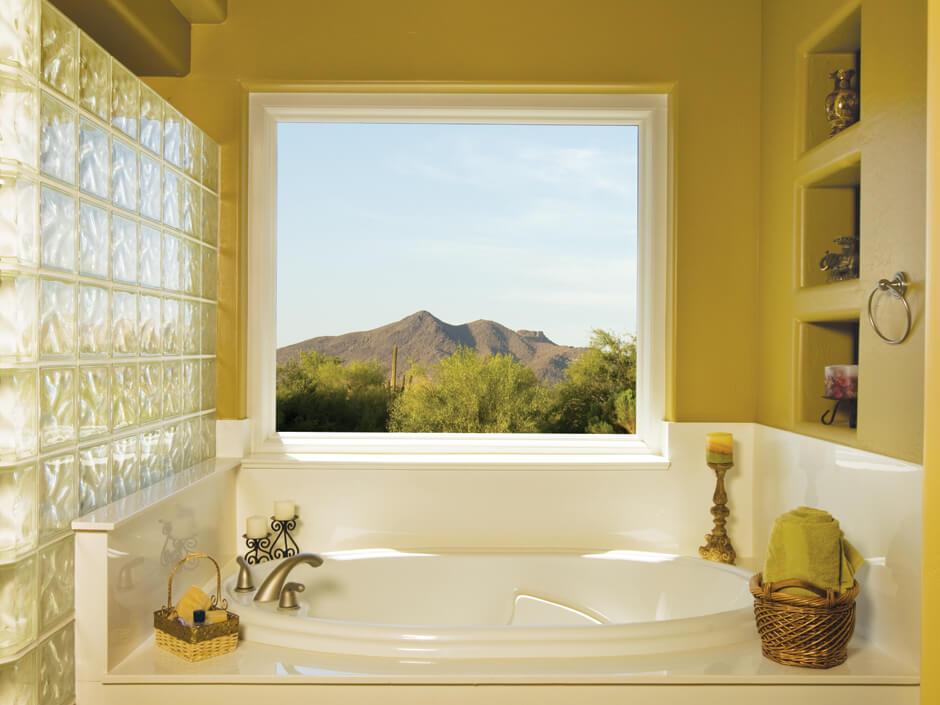 Relax and enjoy the view! We do all the work for you. Just give us a call.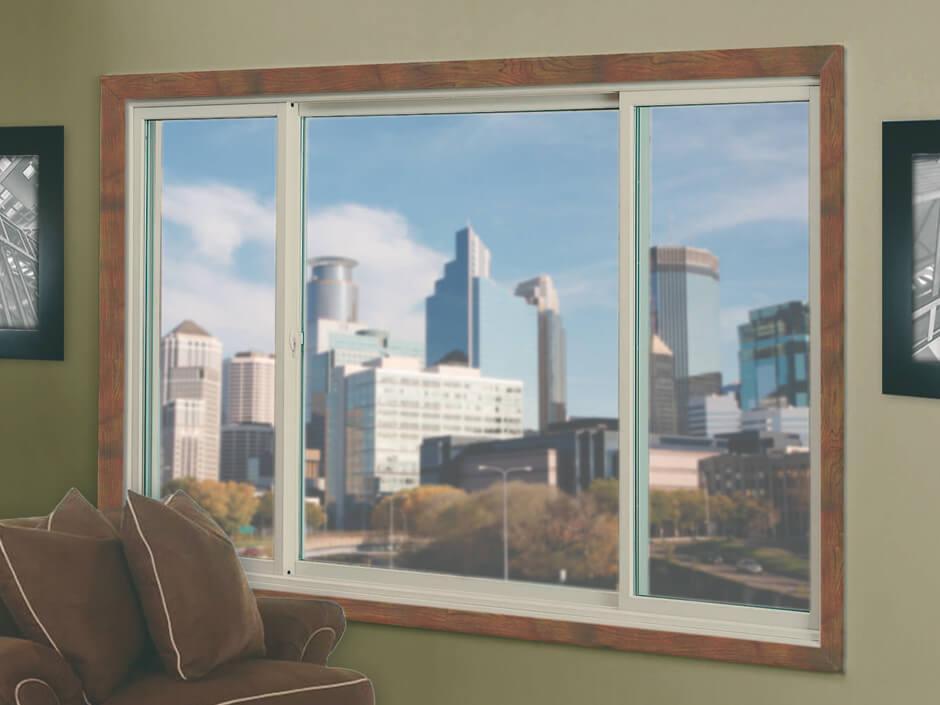 Our canvas color is a creamy white which looks great with all types of wood trim.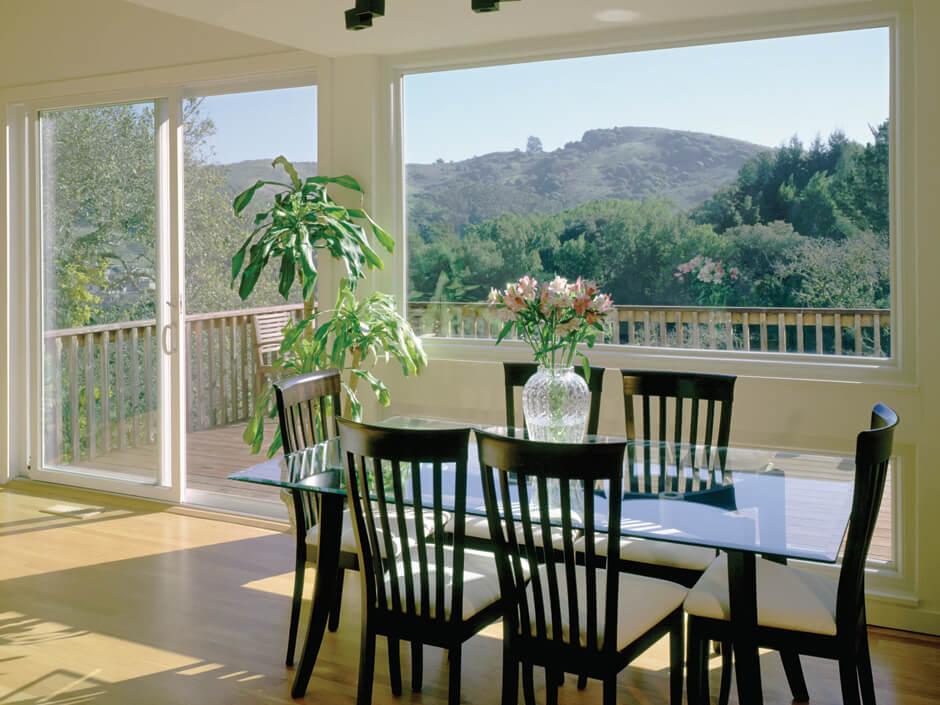 A Perma-Shield patio door, with thin profiles, allows the same expansive view as the picture window!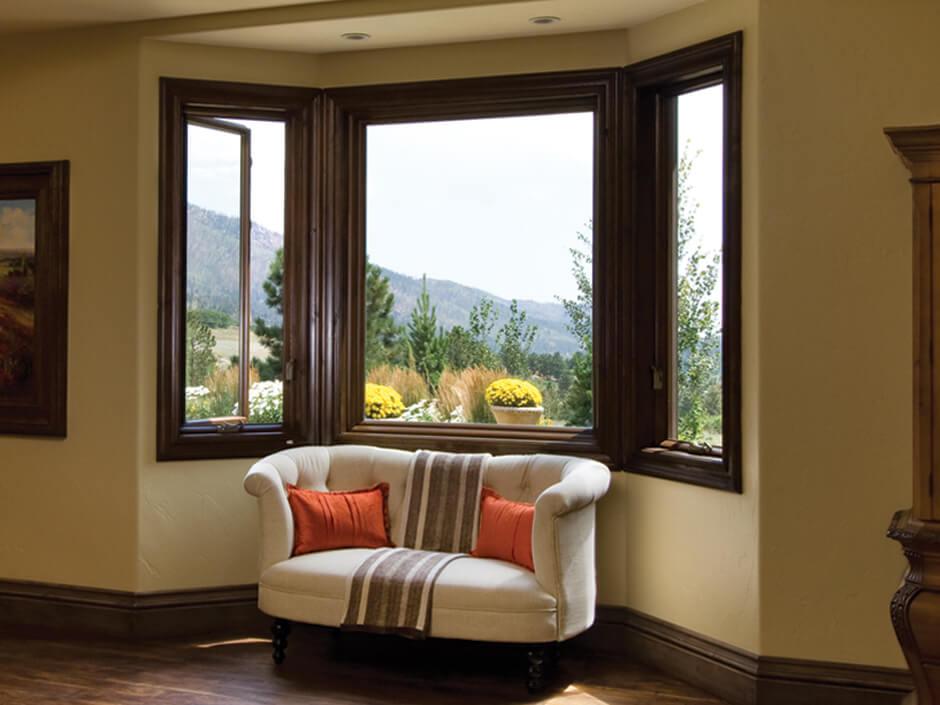 Make the most of a great view, and catch a breeze on the days you want to. Endless possibilities!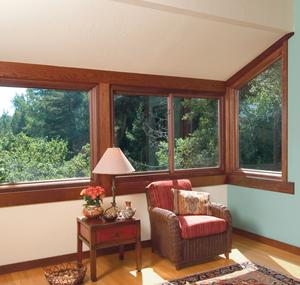 This dramatic combination of windows shows we can fit your needs, and your dreams!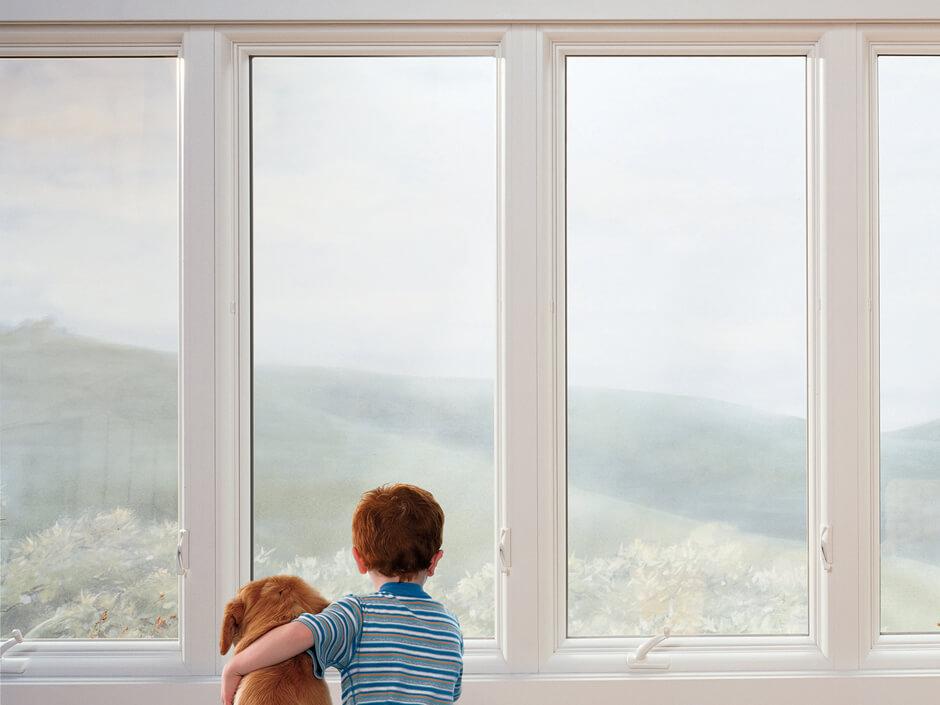 Real wood interiors can be stained to match existing woodwork, with stunning results.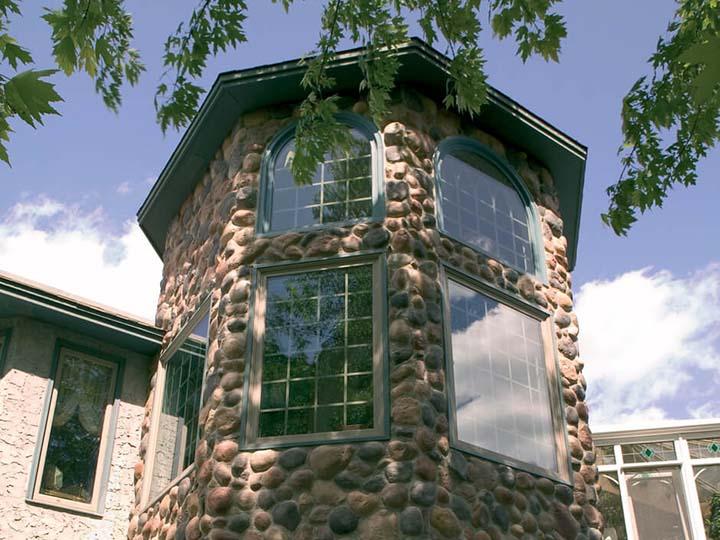 Dream big. Our custom-made windows and grille patterns are as unique as you want them to be!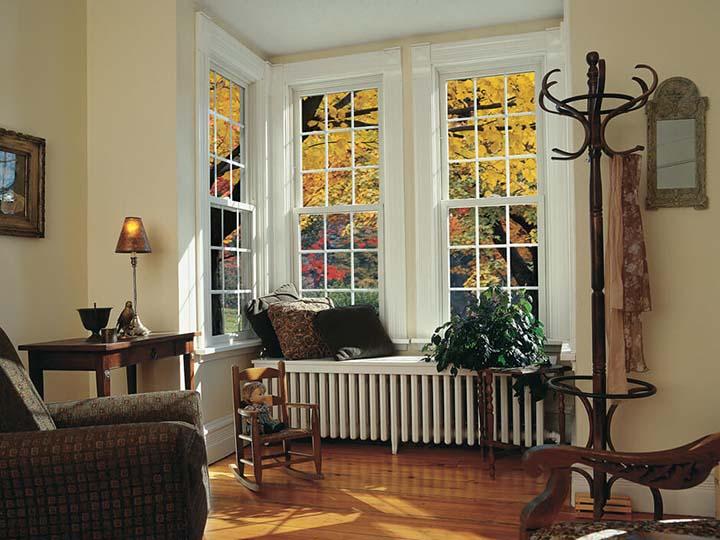 Low-maintenance inside and out. Spend your window-time reading instead of scraping & painting.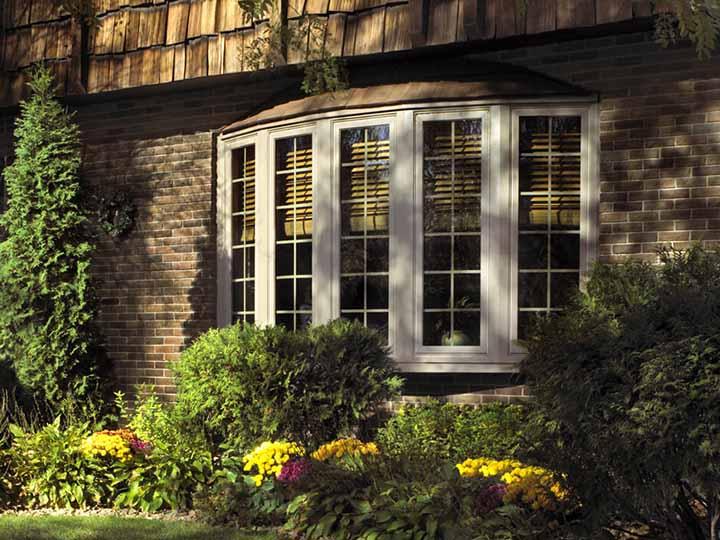 The graceful arch of this 5 window bow adds instant curb appeal.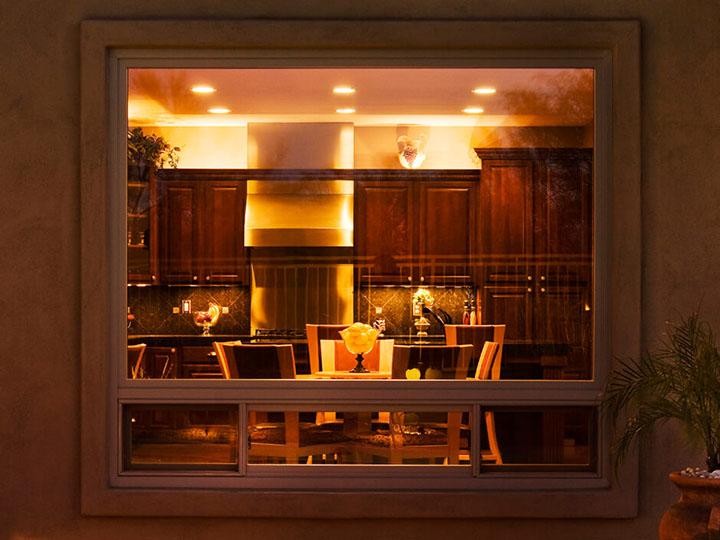 Have a large window opening? Keep the same configuration, or change it to something magical!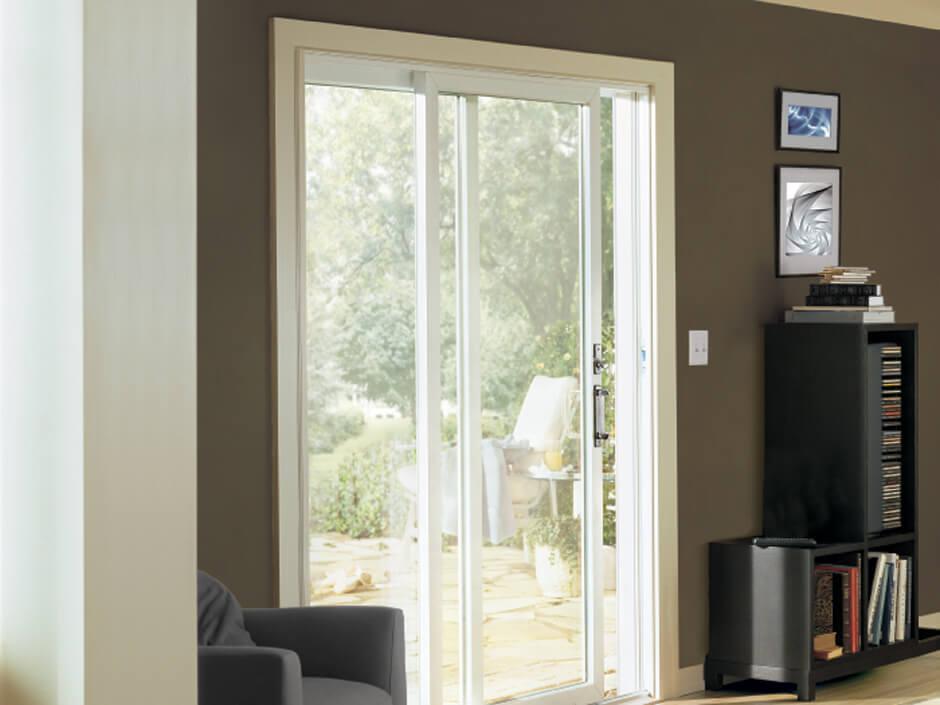 Contemporary gliding doors make the transition to outdoor living space simple.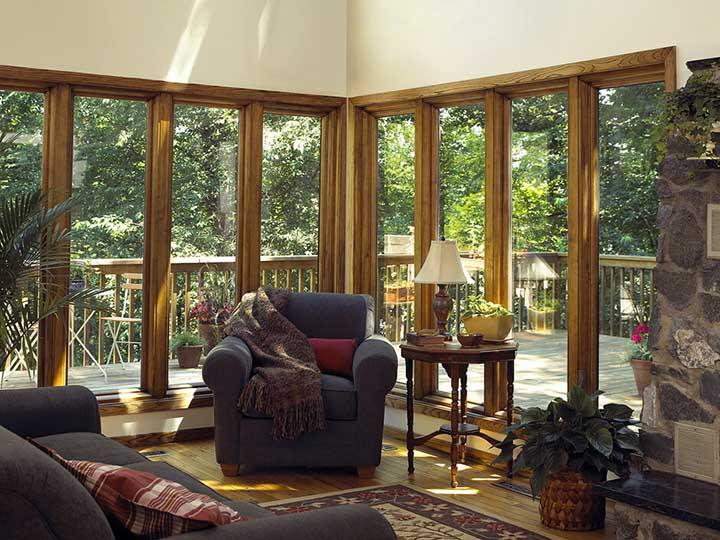 Turn any room into a sun room with wall-sized picture windows, and enjoy the view!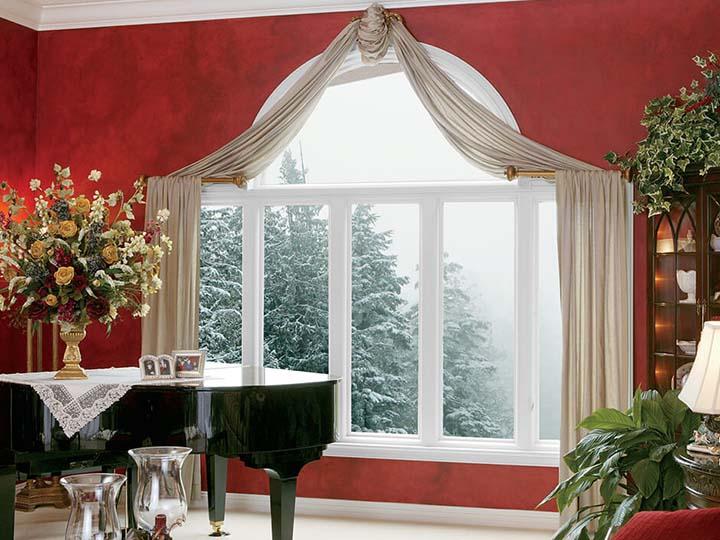 Dramatic! Choose more uninterrupted glass space, or more ventilation, it's entirely up to you!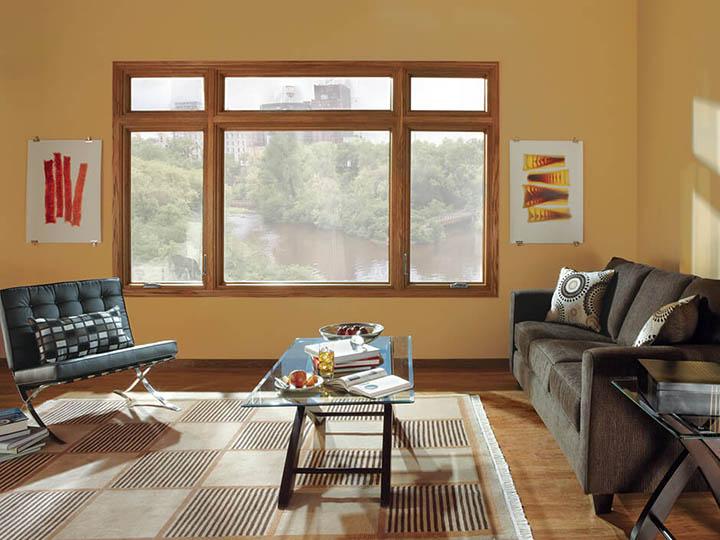 So many possibilities! Three transom windows above a casement/picture window combination - stunning!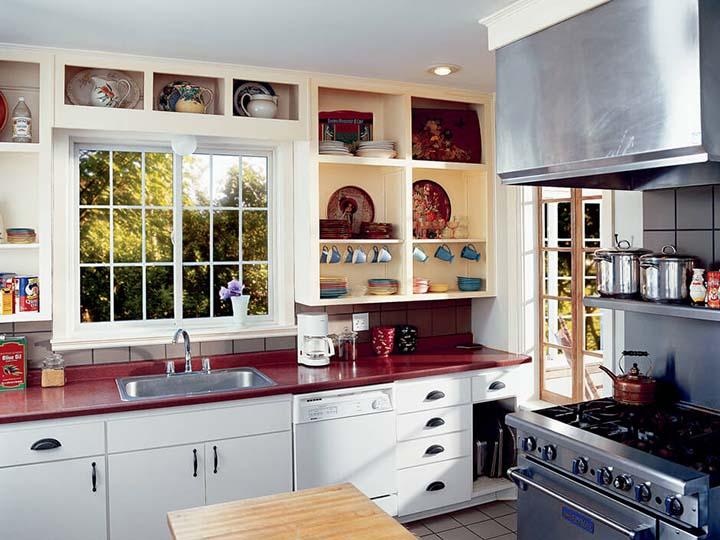 Our gliding windows are made so both sash slide - or not - you choose! Grilles are your choice, too!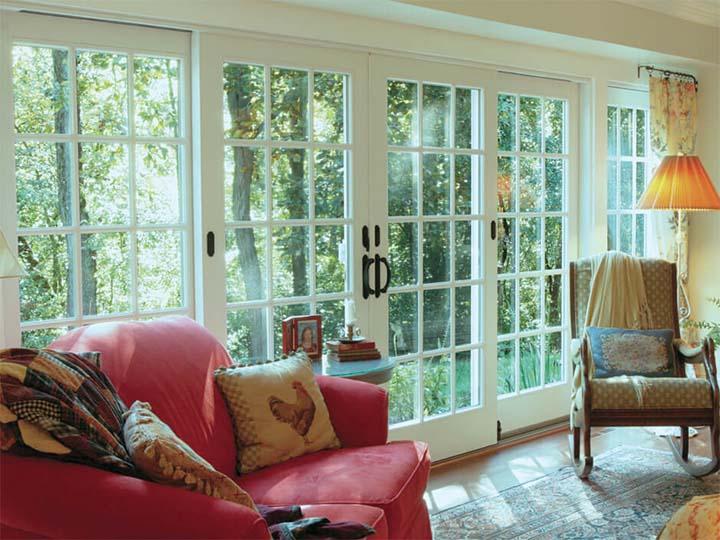 Grand design! Genuine Andersen patio doors come in so many sizes. Surely we have a solution for you.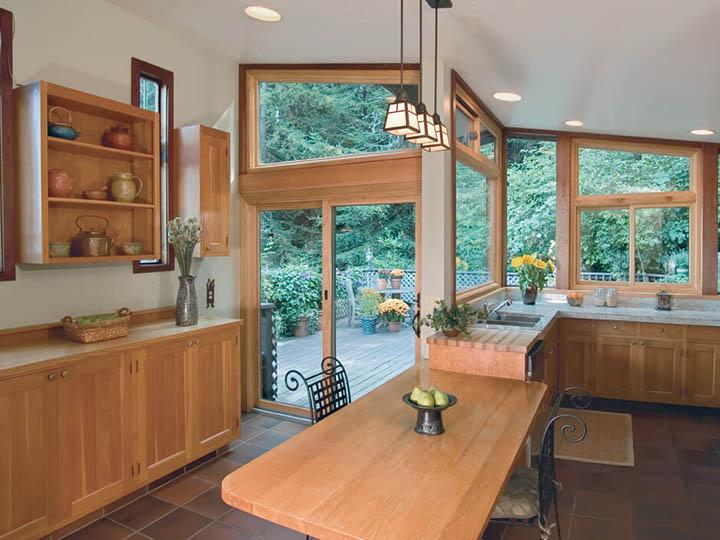 You've got it; we can do it. All windows are custom-sized to within 1/16" of an opening.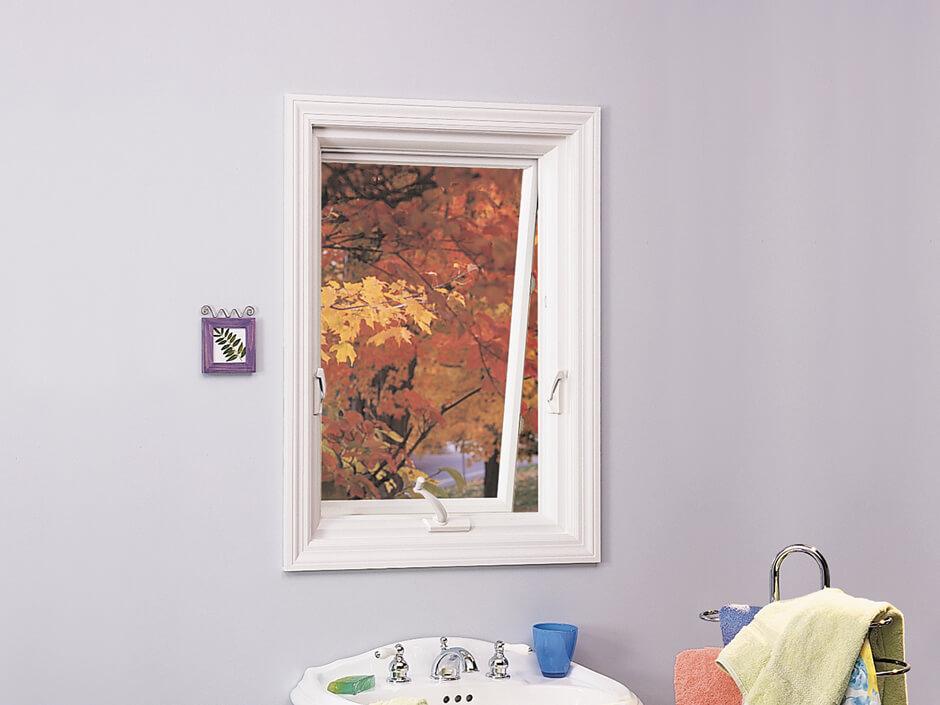 Replace a picture window with an awning window and let the fresh air in!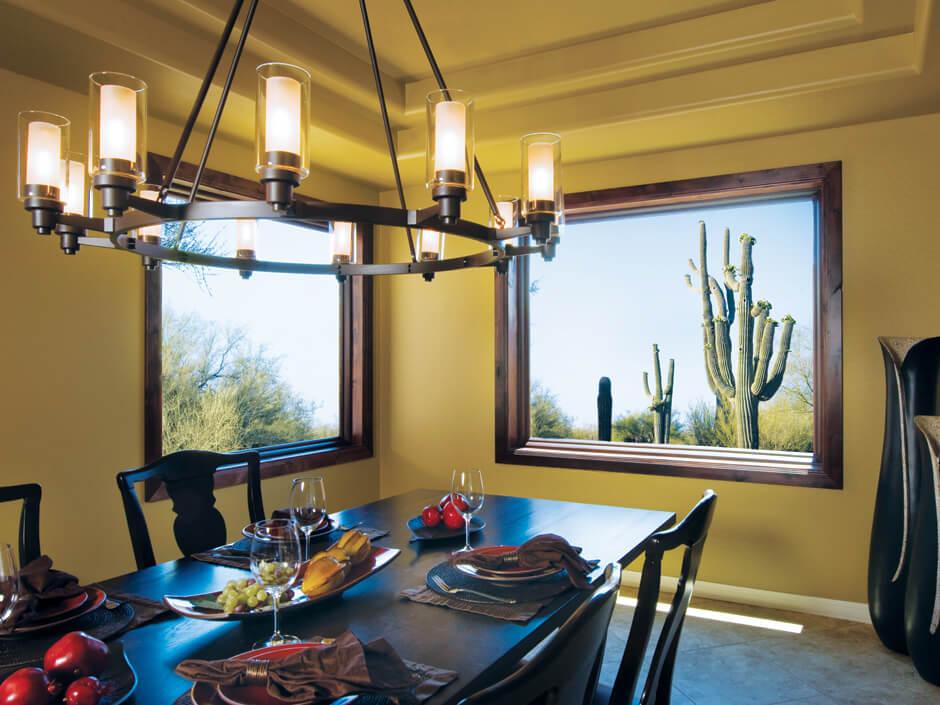 With our easy, start-to-finish process, you'll wonder why you waited so long.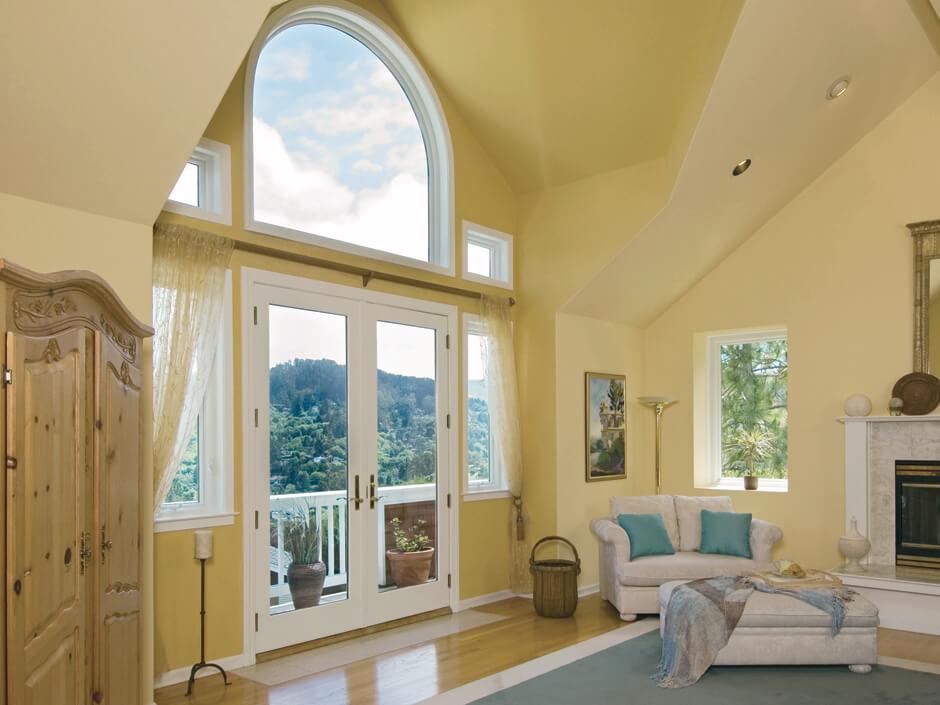 The beauty of custom-made; mix and match window and door styles to suit your needs.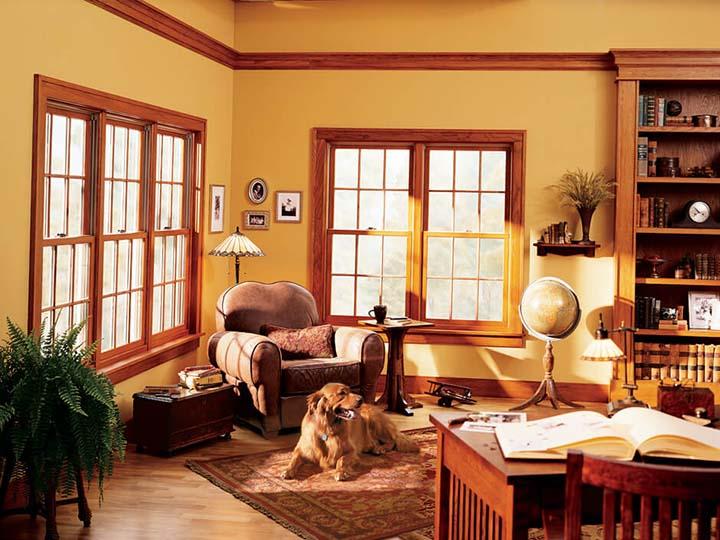 Classic double hung windows with tilt in sash are easy to clean from the inside.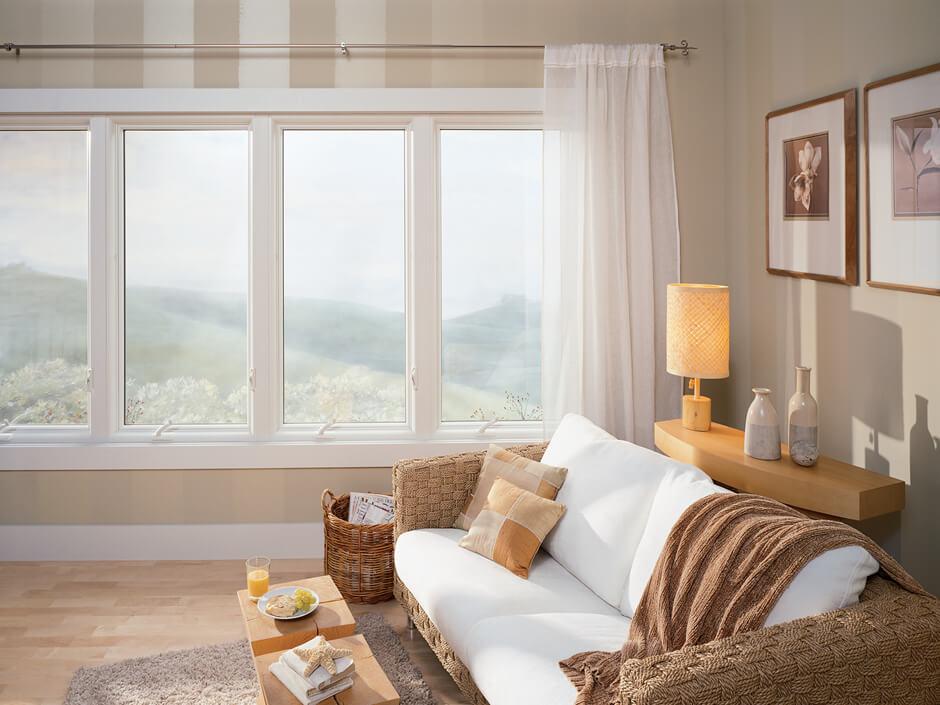 Energy-efficient, low maintenance, and beautiful! What's not to love?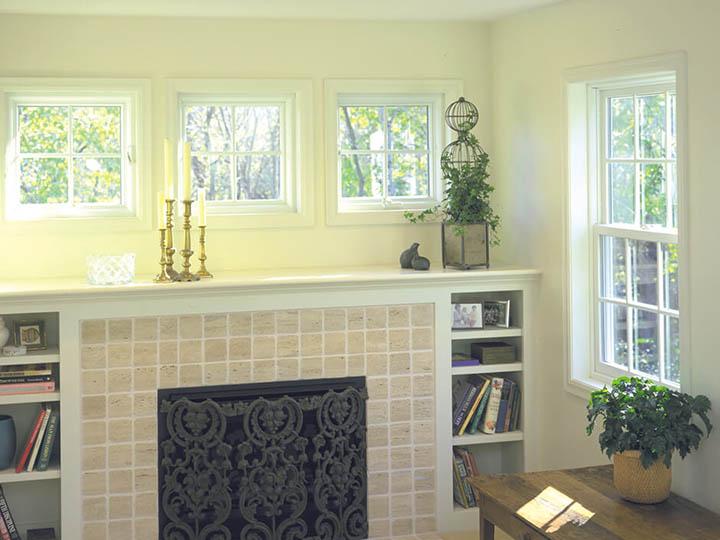 Square awning windows are a great way to bring in light and fresh air into a small room.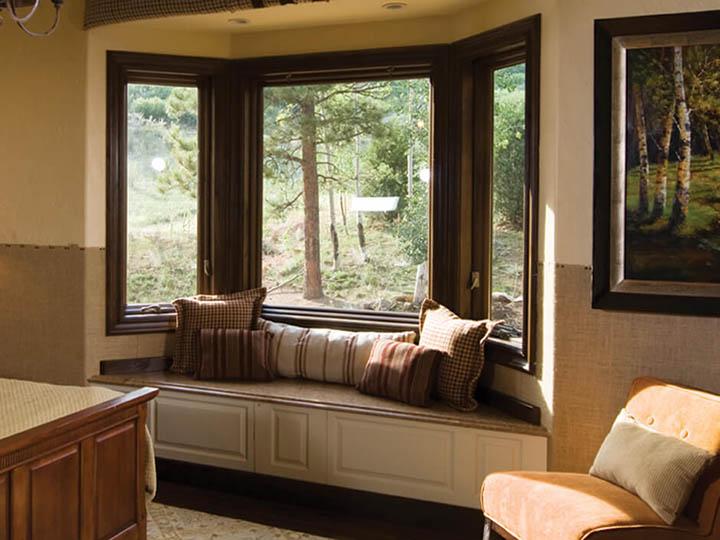 Convert a large window opening into a relaxation nook with a beautiful new bay window.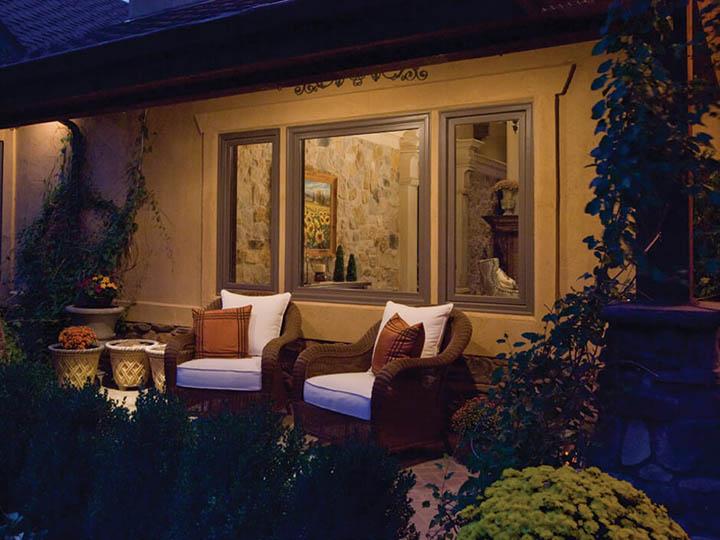 Would this be as beautiful with white windows? Sandtone is just one of our dark exterior colors.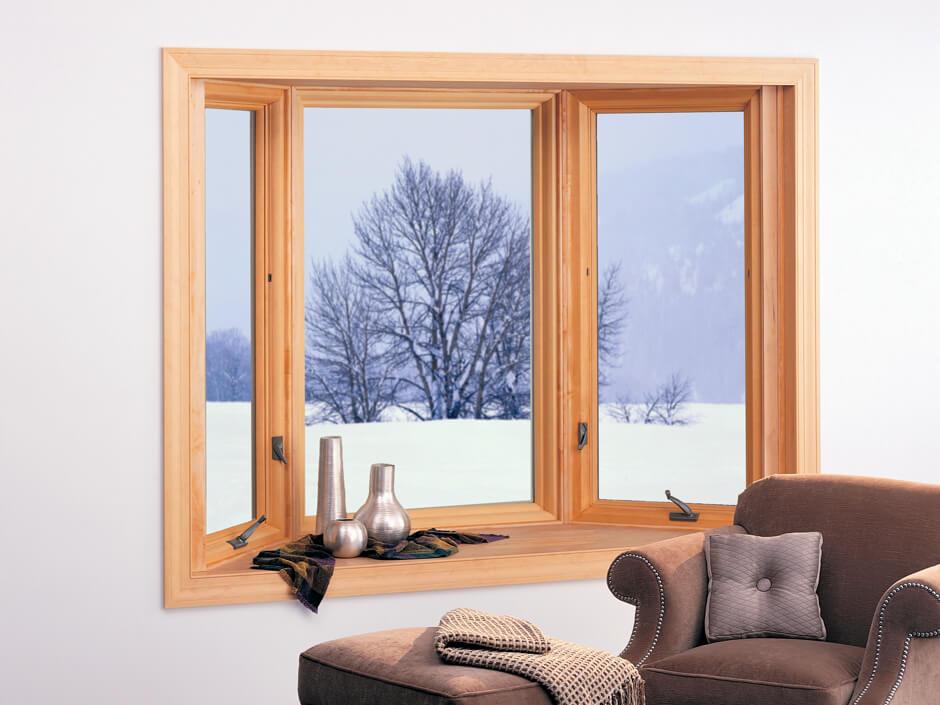 Energy-efficient bay windows open up your view, but keep cold weather out.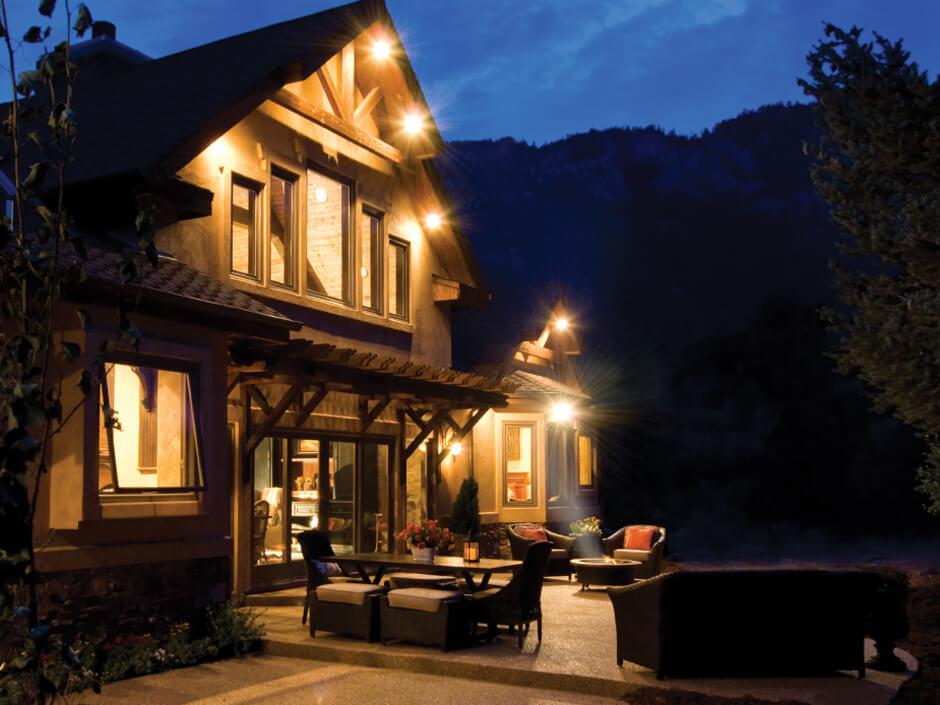 The ambiance would not be the same if this homeowner had to use white on the windows' exterior.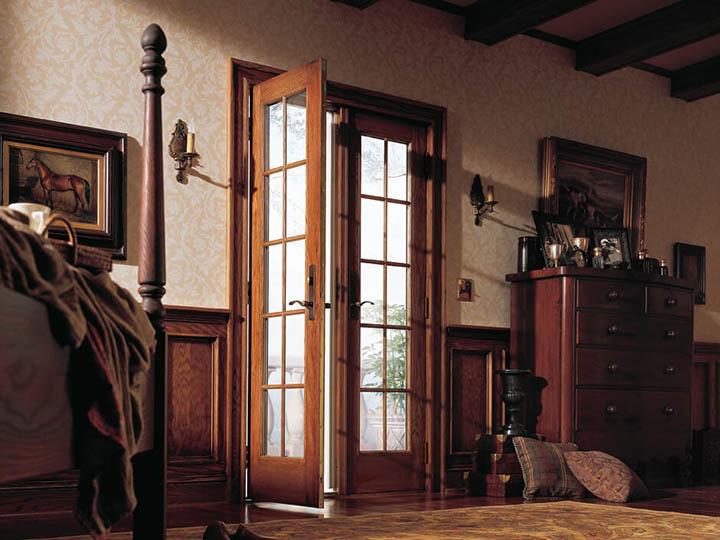 Frenchwood doors have wide profiles like traditional French doors. Grilles are always an option.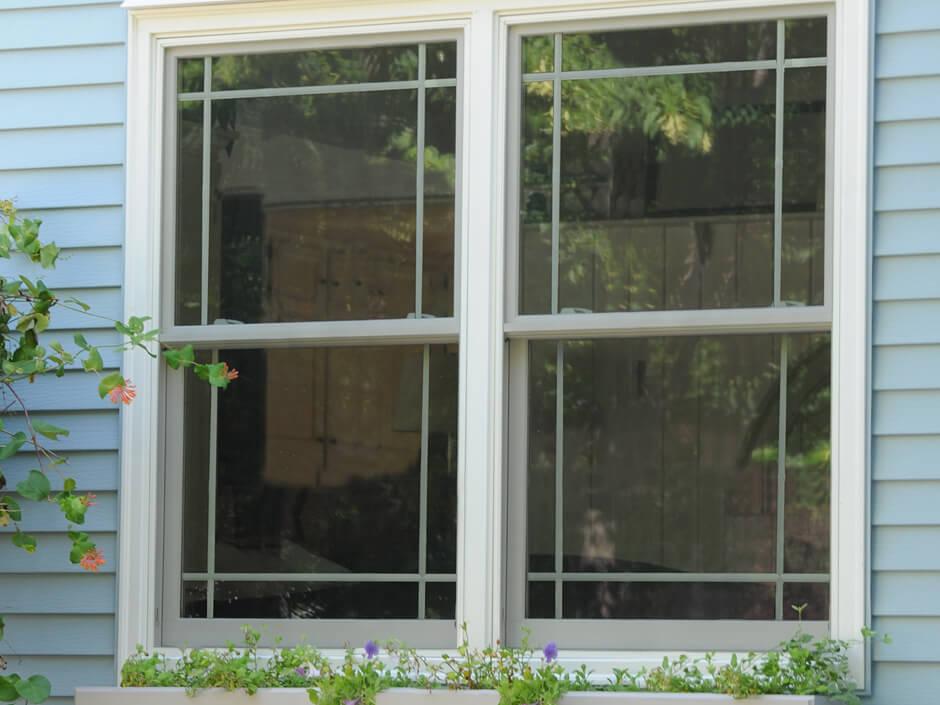 Classic white double hung windows can be updated with modified prairie grilles.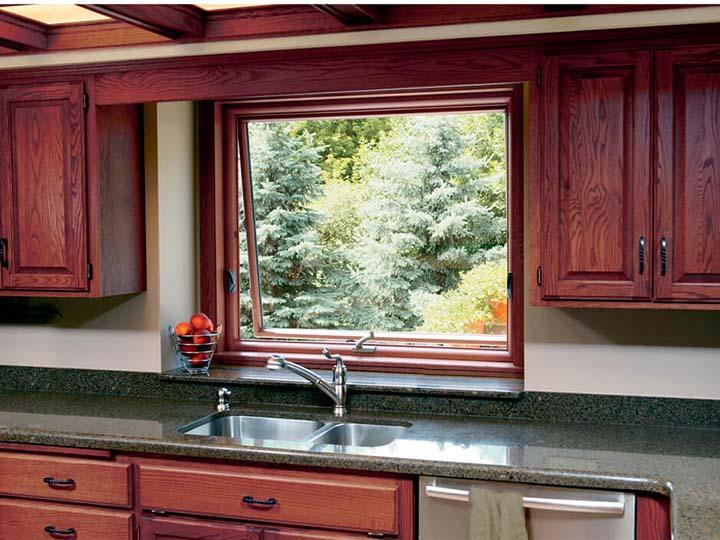 Awning windows let in light and fresh air while protecting your indoor sills, even when it's raining.
OUR HASSLE-FREE PROCESS IN 4 EASY STEPS!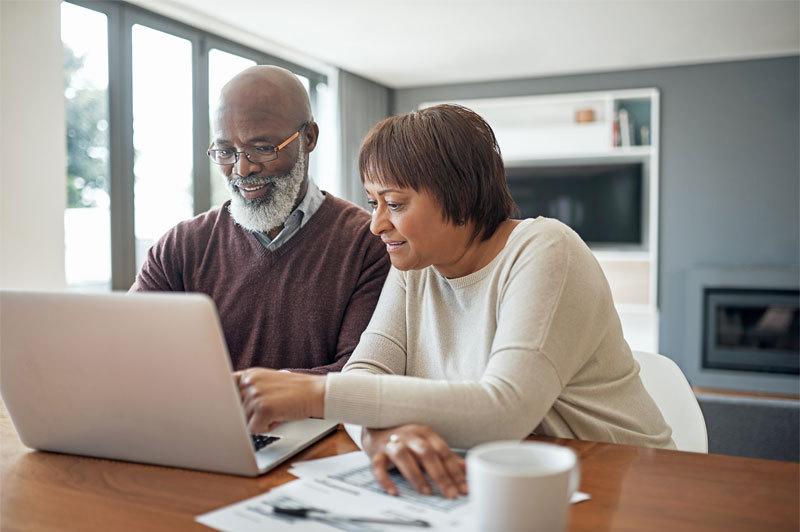 Design Consultation
Our design consultants provide in-home or no-contact virtual meetings to listen to your design needs and provide a plan to improve your home.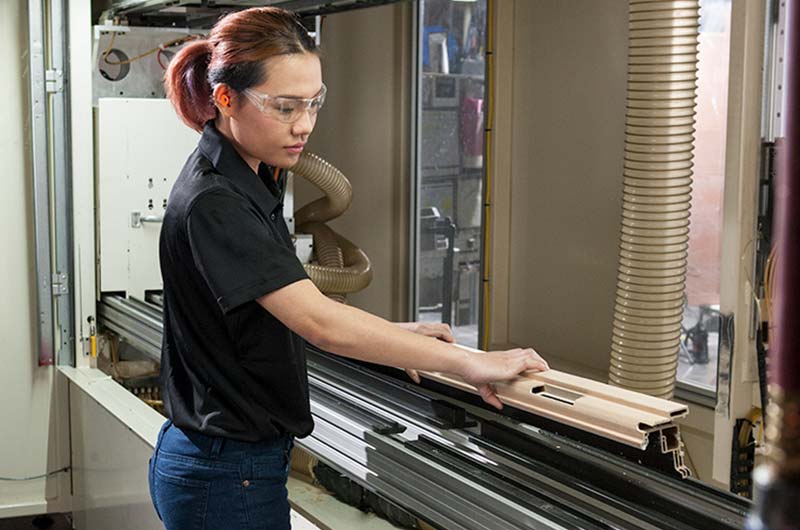 Measure & Manufacture
Project Technicians ensure accuracy and answer any last minute questions before sending in the order for your fully customized windows.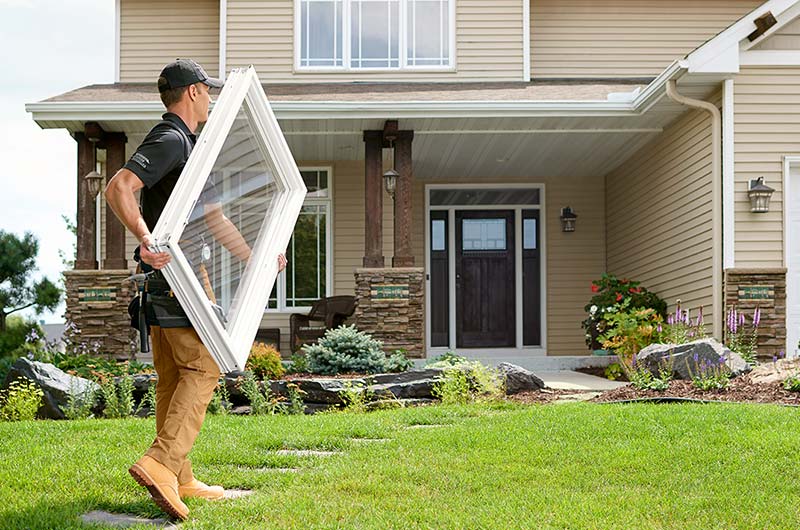 Installation
Our Installers treat your home as if it were their own and clean up afterwards.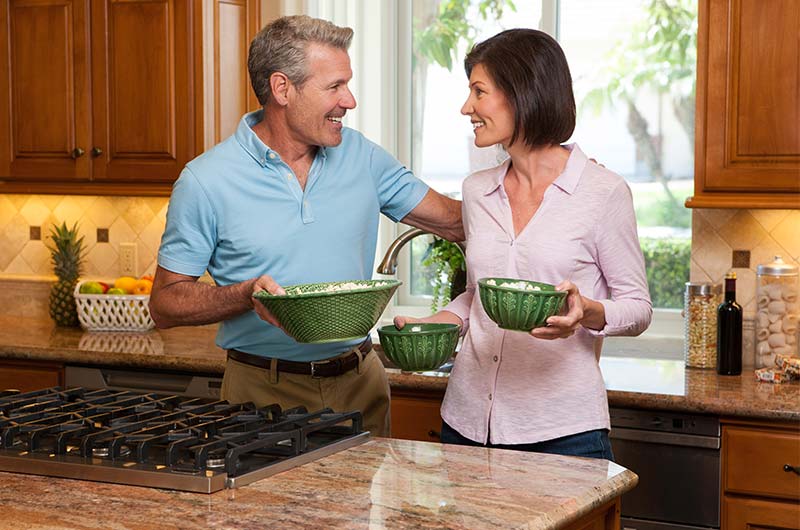 Customer Care
A robust limited warranty is backed by a commitment to making sure your windows function as expected.