Hinged French Patio Doors
Hinged French doors from Renewal by Andersen provide easy access to your home's exterior or patio.
Traditional craftsmanship combines with modern energy efficient technology to create this modern classic.
Our 5-point locking system improves energy efficiency and offers an increased level of security. We've even added a French outswing patio door and a space saving sliding French patio door version to this traditional styling.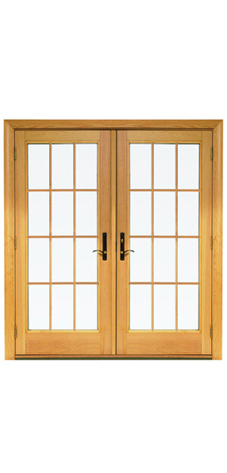 Projects
468,966
completed jobs
View Map
Save $150 per Window or Patio Door
We'll do the work for you!
Offer expires 11/1/14
See Offer Details
Features

Traditional wide board stile and rail construction with mortise-and-tenon joints
Stainable oak, maple, pine or prefinished white interior
Multiple grille options are available to match or change the look of your home
Exterior wood door panels are protected with a urethane base finish

Andersen® Frenchwood® Hinged and Outswing Patio Doors

Hinged patio doors can be installed into most patio door openings, even if you currently have a gliding patio door
Outswing doors save interior space by opening outward
Both styles provide a large opening for easy access to your home's exterior
Hinged and outswing patio doors feature a glass fiber reinforced composite exterior for an attractive appearance with minimal maintenance

Colors

Match or complement the colors of your home with our color options. Our colors will not flake, rust, blister, peel, crack, pit or corrode, making troublesome maintenance a thing of the past. See the limited warranty for details.

White (Interior/Exterior)

Canvas (Exterior)

Sandtone (Exterior)

Terratone (Exterior)

Maple (Interior)

Oak (Interior)

Pine (Interior)

Hardware Options

Albany

Anvers

Covington

Encino

Newbury

Tribeca

Whitmore

Yuma

Hardware Colors

Antique Brass

Bright Brass

Brushed Chrome

Distressed Bronze

Distressed Nickel

Oil Rubbed Bronze

Polished Chrome

Satin Nickel

Stone

White

Renewal by Andersen Glass Performance Options

Each glass option offers four unique benefits for heating, cooling, visible light transfer and ultra violet (UV) protection. The glass solution for you depends on the climate you live in, the architectural design of your home, and the orientation of your windows to the sun.

High-Performance™ Low-E4® glass

45% more energy-efficient in winter*
56% more efficient in summer*
Blocks 84% of UV rays that can damage your drapes, artwork and furniture

High-Performance™ Low-E4® SmartSun™ glass

SmartSun™ is our most energy efficient glass option. It has our highest efficiency rating in cool weather and is exceptional in hot climates where solar heat gain can lead to excessive air conditioning expense. SmartSun™ glass lets in almost as much natural daylight as clear glass.

45% more energy-efficient in winter*
70% more efficient in summer*
Blocks 95% of harmful UV rays

High-Performance™ Low-E4® Sun glass

Sun glass has our highest rating against solar heat gain coming through your window to help keep your home cooler in warm weather. A tint coating reduces the amount of visible light and sunshine streaming in from the outside.

Highest rating against solar heat gain
Keeps your home cooler in warm weather
Includes a tint coating to reduce visible light

Our High-Performance™ Low-E4® glass is also available in four pattern options: Obscure Pattern, Reed Pattern, Cascade Pattern and Fern Pattern. We also offer tempered glass options, heat-treated to be at least four times stronger than regular glass.

Hinged Patio Door Grille Options

Hinged patio doors are available with colonial, prairie, short fractional or tall fractional grille pattern options. Ask your patio door replacement consultant for more grille options.

Colonial

Prairie

Short Fractional

Tall Fractional

Hinged Insect Screen

Hinged insect screens are available for single panel Andersen Frenchwood® hinged patio doors.

Double-Hinged Insect Screen

Double-Hinged Insect Screens are available for double panel Andersen Frenchwood hinged patio doors.

Gliding Insect Screen

Gliding insect screens are available for double panel, hinged patio doors and gliding patio doors.

Retractable Insect Screen

Retractable insect screens are available for all patio door styles. For Frenchwood outswing patio doors, they are mounted on the interior only.

View product photos and videos

Inspiration Gallery